Sewing
What Is Hemstitching?
Modest Clothing! Sew your own modest dresses, women's clothing, prom dresses: a review site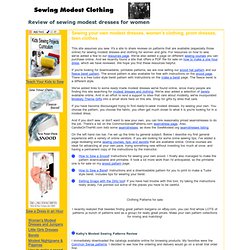 This site assumes you sew. It's a site to share reviews on patterns that are available (especially those online) for sewing modest dresses and clothing for women and girls. For resources on how to sew, we've added a few to our resources page. We've also added a page on different sewing courses you can purchase online. And we recently found a site that offers a PDF file for sale on how to make a one hour dress, which we have reviewed. We hope you find these resources helpful.
by Regina Doman used with permission Most of us are familiar with the common North American phenomenon of Clutter. I would guess that many of us have homes afflicted with this malady in various forms, including Toy Clutter, Photograph Album Clutter, Sewing Clutter, and even Book Clutter. Another type is Clothing Clutter.
Liturgical Dressing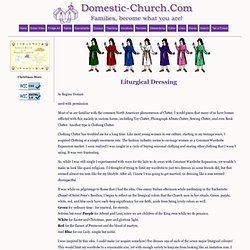 Lily Abello's Sewing Resource Guide
Updated Friday, November 4, 2011 Trying to keep up to date. Jennifer Contents Body Doubles and Dress FormsBra-Making Information & SuppliesCraftsConverting RTW Clothing and Patterns to NursingCo-opsDyeingFabric and Notion VendorsFittingFree Patterns and ProjectsGeneral Sewing Sites and Links PagesHeirloom Sewing/SmockingJewish Sewing and CraftingKnitting/CrochetMachine EmbroideryNMSL and Related SitesOnline Sewing ClassesPattern CompaniesQuiltingRTW Nursing Clothing and BrasSewing for ChildrenSewing Machine Technical Info & TroubleshootingSewing Tips for Specific FabricsSlings & BabywearingTechniques & How-To'sTextile InfoWardrobe Planning Body Doubles and Dress Forms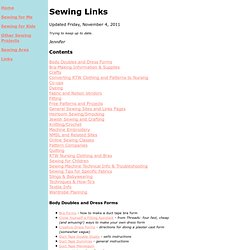 Jen's Links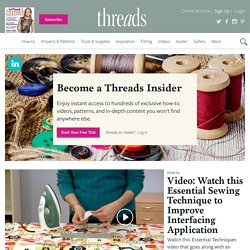 Threads magazine
Login Create an Account Insider Membership Threads - for people who love to sew Get Threads magazine! Give a Gift Trim a Neckline Like Yves Saint Laurent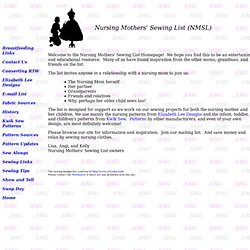 Welcome to the Nursing Mothers' Sewing List Homepage! We hope you find this to be an entertaining and educational resource. Many of us have found inspiration from the other moms, grandmas, and friends on the list. The list invites anyone in a relationship with a nursing mom to join us: The Nursing Mom herself Her partner Grandparents Friends and relatives Why, perhaps her older child sews too! The list is designed for support as we work on our sewing projects for both the nursing mother and her children.
NMSL list
Microscope Threads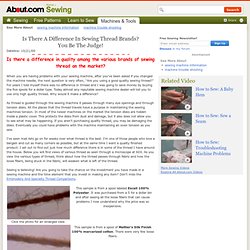 Dateline: 10/21/00 Is there a difference in quality among the various brands of sewing thread on the market? When you are having problems with your sewing machine, after you've been asked if you changed the machine needle, the next question is very often, "Are you using a good quality sewing thread?"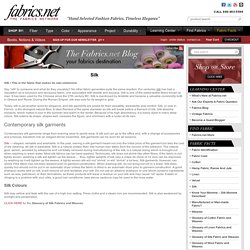 Silk Silk ! This is the fabric that makes its own statement. Say "silk" to someone and what do they visualize?
Fabric ID