Compositing
100 Best of Adobe After Effect Tutorials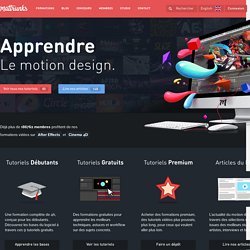 Preset d'effet de peinture psychédélique avec Particular Bonjour à tous ! Je m'appelle Sara Bennett, aussi connue sous le pseudo Shabello, motion designer freelance basée à Manchester en Angleterre.
Joseph Kosinski's Film "Oblivion" Showcases Elegant Effects World‐class user interface designers, graphic artists, and animators create crisp, timeless visual elements for the sci-fi film starring Tom Cruise and Morgan Freeman, Oblivion. Kosinski turned to Bradley G. Munkowitz (GMUNK), whom he'd previously worked with on Tron Legacy. As lead interface graphic designer, GMUNK then pulled a team together that included Interface Graphic Designers Joseph Chan (Chanimal) and Jake Sargeant, and Interface Animators Alexander Perry (AP), Navarro Parker (Nav), and David Lewandowski (D-Lew).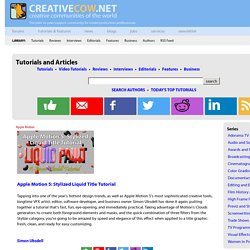 VFX'N'3D - Forum
Adobe Illustrator can be a little tricky to get your hands around, particularly after getting used to the workflow of applications like Photoshop. The differences between layer use and the creation of objects and shapes can be really strange at first hand. In this tutorial you will learn how to... Doing anything in Adobe Illustrator really does take two times longer as it can be a little tricky to get your hands around. In the following tutorial you will learn how to create a zippo lighter in Adobe Illustrator. For starters you will use basic tools (Rectangle, Ellipse, Pen tools)...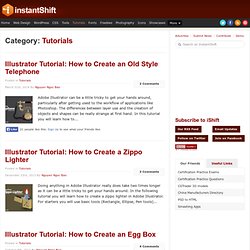 The Computer Graphics & Digital Motion Industry is once again on its historical growth trend. When it comes to visual effects and motion graphics, After Effects is usually one of the primary choices to consider. However, the software package itself is a quite hard to learn — and extremely hard to master.