Social networks
Schwarzes Glück
deviantART: where ART meets application!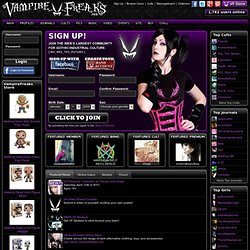 * April 18, 2014 * VF Minions Recruitment Contest Recruit new members to VF to be your minions! Everytime you recruit someone to VF, they are listed as your VF minion and you get VF points good for prizes.
VampireFreaks.com - Gothic Industrial Culture
GoneGothic • Alternative Community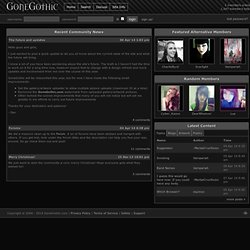 Hello guys and girls, I just wanted to post a quick update to let you all know about the current state of the site and what the future will bring. I know a lot of you have been wondering about the site's future. The truth is I haven't had the time to work on it for a long time now, however expect that to change with a design refresh and more updates and involvement from me over the course of this year. GoneGothic will be relaunched this year, but for now I have made the following small improvements:
Netlog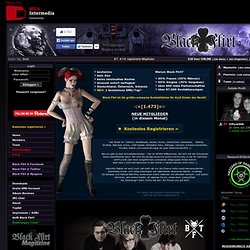 Flirt - Gothic Singles & Metal Singles @ BLACK FLIRT » kostenlose Singlebörse & Community für die Schwarze Szene
Viele von euch kennen den Youtuber "JuliensBlog" (wenn überhaupt) wohl am ehesten für seine Rap-Battles - umso mehr hat es uns erstaunt und gefreut, dass auch richtig geile Szene-Bands wie die Broken Fairy Tales MIT ERFOLG(!) an JuliensBlogContest teilnehmen. Da Black Flirt sich ja bekanntermaßen das zusammenführen der gesamten Schwarzen Szene auf die Fahnen geschrieben hat finden wir, dass wir alle gemeinam die Jungs mit unseren Views & Likes unterstützen sollten - einfach weil die Jungs aus Marl (NRW) es verdient haben mit diesem Contest als Sprungbrett richtig durchzustarten! Also hört/schaut euch das Video im Dauerloop an, wenn es euch gefällt, liked und kommentiert es!
pushd.de | Einfach abgefahren!