Developement
Sysinternals Downloads.
Tools on the Web
Time and Task Management Software for Microsoft Outlook: Taskline. XML Editor. XMLSpy Altova XMLSpy® 2014 is the industry's best selling XML editor with powerful support for working with all XML-based technologies.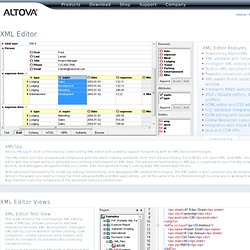 The XML editor provides unsurpassed compliance with the latest industry standards, from XSLT 3.0 and XQuery 3.0 to WSDL 2.0, Open XML, and XBRL. And, it is the only XML editor with the unique ability to generate eye catching charts based on XML data. The advanced functionality in XMLSpy is coupled with user-friendly views and entry helpers, wizards, and debuggers designed to help you create, edit, and optimize today's cutting-edge XML-based applications.
W3Schools Online Web Tutorials.
---