IoT
Retour sur la manifestation finale "Confiance numérique"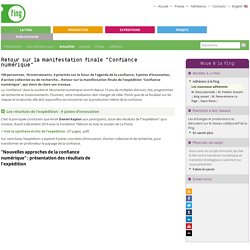 150 personnes, 10 intervenants, 4 priorités sur le futur de l'agenda de la confiance, 9 pistes d'innovation, d'action collective ou de recherche… Retour sur la manifestation finale de l'expédition "Confiance numérique", qui vient de clore ses travaux. La "confiance" dans la société et l'économie numérique nourrit depuis 15 ans de multiples discours, lois, programmes de recherche et investissements. Pourtant, cette mobilisation doit changer de cible. Plutôt que de se focaliser sur les risques et la sécurité, elle doit aujourd'hui se concentrer sur la production même de la confiance. Les résultats de l'expédition : 9 pistes d'innovation C'est la principale conclusion que livrait Daniel Kaplan aux participants, issue des résultats de l'"expédition" qu'a conduit, d'avril à décembre 2010 avec la Fondation Télécom et avec le soutien de La Poste.
A l'occasion d'une remise de prix au SYGGRAPH à Los Angeles en aout 2004, Bruce Sterling (un des plus grands auteurs de science fictions contemporaines) c'est exprimé sur l'évolution du rapport homme(s)-objet(s) dans notre société. Au cours de cette conférence il a développé un nouveau concept répondant au nom de "spime". Selon Bruce le "spime" est l'évolution d'une catégorie d'objet semblable à nos PDA. Un "spime" est un accessoire croisé avec un ordinateur.
Spime, une concepte d'Objets communicants… | Cybunk
The Internet of Things: A Window to Our Future is a text of Gérald Santucci for the post-Council meeting publication that was launched in February 2011. Gérald Santucci is Head of Unit Internet of Things and Future Internet Enterprise Systems, European Commission: We are living through one of history's swerves. Over the past decade billions of people have hooked themselves up to the Internet via the computer and more recently mobile devices. This communication revolution is now extending to objects as well as people. The Internet of Things: A Window to Our Future
Gérald Santucci: The Internet of Things: A Window to Our Future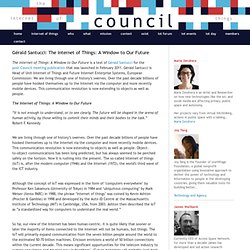 The Arrayent Internet-Connect Development Kit for Low Power RF enables you to quickly demonstrate reliable, low cost connectivity between your home or office electronic devices and a web browser within a day Arrayent's Internet-Connect Service is ideal for product companies seeking to connect their products to web applications and Internet browsers with: Low cost gateway (< $5 BOM) Low endpoint cost because Arrayent's web application server virtualization technology eliminates the need for a web app server in the endpoint. Quick and easy installation (automatic pairing and consumer firewall traversal; no fixed IP address required) Full-house range The Arrayent DevKit enables you in just a few easy steps to wirelessly connect your hardware device to a web-based application viewable on a smart phone or PC Internet browser. The DevKit has been designed to let you configure a complete Internet controlled product that requires no software development.
Internet-Connect Development Kit