Stage
kaftan.jpg (500×285)
Welcome to my Movie Costume website! This site contains research, reference images, and "making of" tips and resources for many different movie costumes. (But NOT all of them!) If you are looking for Star Wars costume information, please visit my sister site, The Padawan's Guide.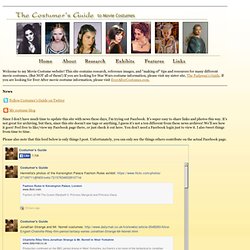 How to Grommet By Hand by =sidneyeileen on deviantART
This tutorial may also be found on my web site at [link] This tutorial shows specifically how to grommet a typical corset, but the technique is sound for any occasion where fabric needs to be grommetted. I wrote this last fall and finally screen-shot from my web site so I could upload it here. I will be adding most of the tutorials I write in this manner from now on, as it's much faster than making a special graphic for upload to dA.