Listing (30)
Filmmaker in Residence (santé, action sociale, soins communautaires, Hopital St Michel de Toronto, Canada)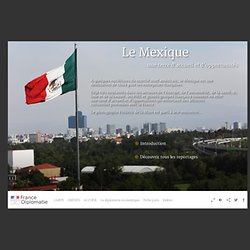 A quelques encâblures du marché nord américain, le Mexique est une destination de choix pour les entreprises françaises. Déjà très implantés dans les secteurs de l'énergie, de l'automobile, de la santé, du luxe et de la beauté, les PME et grands groupes français y trouvent en effet une terre d'accueil et d'opportunités qui entretient des affinités
Mexique terre d'accueil et d'opportunités (diplonatie économique française)
En route pour les 8eme (ligue des champions 2011/12)
Theban Mapping Project (archeologie Egypte)
Le monde arabe en révolution(s)
La Maraude (sans abris Strasbourg)
This dynamic media creation suite enables everyone to easily turn their photos, videos, text and audio clips into interactive stories. A COLLAGE can be published, embedded, and syndicated into any website, blog or social networking site. Whether you're a photojournalist, photoblogger, or a student who wants to share your world.... COLLAGE will become your multimedia expression space! Features include: Image Cut-out and Masking tools Layer positioning and Compositing Interactive 'Hot-spots', providing links to media, text or other websites Ability to add rich media details Text and Soundtrack
Streetlight (avenir jeunesse Ethiopie)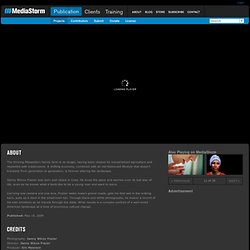 The thriving Midwestern family farm is no longer, having been choked by industrialized agriculture and replanted with subdivisions. A shifting economy, combined with an old-fashioned lifestyle that doesn't translate from generation to generation, is forever altering the landscape. Danny Wilcox Frazier was born and raised in Iowa. He loves the place and worries over its lost way of life, even as he knows what it feels like to be a young man and want to leave.
Driftless: Stories from Iowa
Transiti (le monde transgenre)
Immigration / Nation (multiculturalisme en Australie)
Salvi per caso (derniers témoins de la Shoa).
Mexico Libre (homosexualite au Mexique)