Listing (12)
Sauver ma langue (langues minoritaires Europe) 360° Langstrasse Zürich (promenade dans la ville, Suisse) Afrique 50 ans d'indépendance. Link Generation. Nordic Variations - Parc Forollhogna. Faisons le Mur (Graffiti, Chili, Argentine, Uruguay, Bresil) Graffiti archaeology. One Life. FINDING NATURE (en cours)
100 Gallons (la ressource eau et son importance singulière) Our 2012 Fellows present a Powering a Nation special report, "100 Gallons.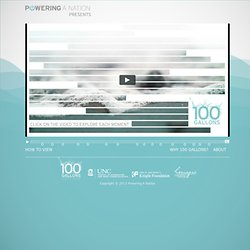 " "100 Gallons" explores how our most critical resource goes far beyond traditional power. More than fossil fuels, commerce or industry, water powers life. The purpose of this project is to restore and encourage a sense of respect and wonder to our cultural view of water and to start a conversation about water problems and solutions in our country. We also seek to put those issues into a global context. La guerre de l'eau : Mekong, Colorado, Nil, Jourdain. Des jouets un Sorin. Complices de la déforestation.
Living in East Jerusalem. Toujours pas de pétrole.
---