CSharp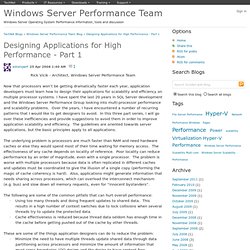 Rick Vicik - Architect, Windows Server Performance Team
Designing Applications for High Performance - Part 1 - Windows Server Performance Team Blog
Managed Extensibility Framework
Over the last few years I've found very little time to work on LuaInterface. Certain platforms such as Mono/Xamarin and WinRT aren't supported well (if at all) and there are still quite a few bugs open.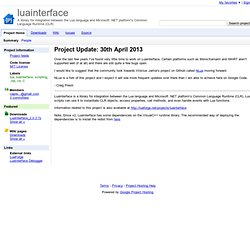 luainterface - A library for integration between the Lua language and Microsoft .NET platform's Common Language Runtime (CLR)
protobuf-net - Fast, portable, binary serialization for .NET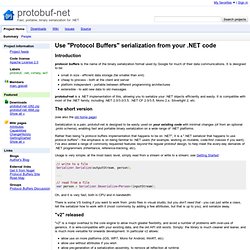 Introduction protocol buffers is the name of the binary serialization format used by Google for much of their data communications. It is designed to be:
jgauffin/griffin.networking
NetSockets
This is an interim release, until 0.5 is ready.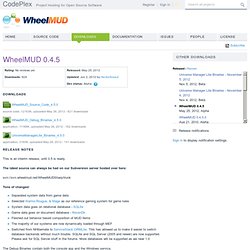 WheelMUD - Download: WheelMUD 0.4.5
RavenDB - 2nd generation document database
RavenDB tutorial, part 1 - introduction and basic operations - Geekbeing
When starting new project we (at least lots of my collegues do) tend to automatically think about SQL whilst picking data backend for our application. Or to be honest - we sometimes skip the thinking part, picking SQL is a reflex.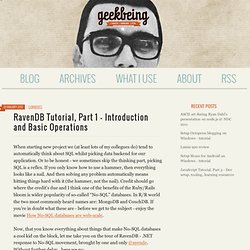 NUnit - Home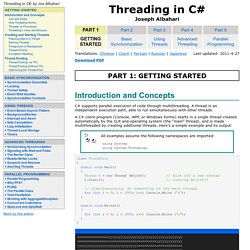 Threading in C# Joseph Albahari Last updated: 2011-4-27 Translations: Chinese | Czech | Persian | Russian | Japanese Download PDF
Ninject
This article will serve as an elementary tutorial to help you quickly get started with the lightweight and open sourced dependency injector for .NET applications - Ninject. Introduction
Get Started with Ninject 2.0 in C# Programming