CSharp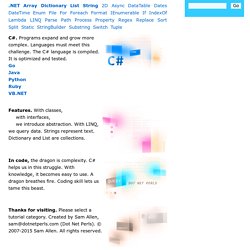 ArrayClassCollectionsFileString.NETAlgorithmASP.NETCastCompressionDataDelegateDirectiveEnumExceptionIfInterfaceKeywordLINQLoopMethodNumberRegexSortStringBuilderStructSwitchTimeValueWindowsWPF A square is green. All shapes and colors are abstractions. All computer programs are built with abstractions. Programs are beautiful but their construction is not.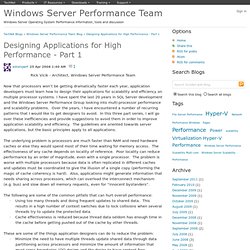 Rick Vicik - Architect, Windows Server Performance Team Now that processors won't be getting dramatically faster each year, application developers must learn how to design their applications for scalability and efficiency on multiple processor systems. I have spent the last 20 years in SQL Server development and the Windows Server Performance Group looking into multi-processor performance and scalability problems. Over the years, I have encountered a number of recurring patterns that I would like to get designers to avoid. In this three part series, I will go over these inefficiencies and provide suggestions to avoid them in order to improve application scalability and efficiency.
Designing Applications for High Performance - Part 1 - Windows Server Performance Team Blog
NuGet is the package manager for the Microsoft development platform including .NET. The NuGet client tools provide the ability to produce and consume packages. The NuGet Gallery is the central package repository used by all package authors and consumers. Install NuGet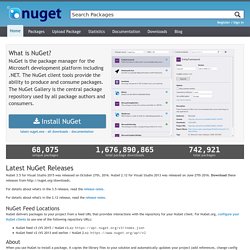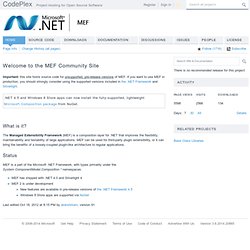 Managed Extensibility Framework
Important: this site hosts source code for unsupported, pre-release versions of MEF. If you want to use MEF in production, you should strongly consider using the supported versions included in the .NET Framework and Silverlight. What is it? The Managed Extensibility Framework (MEF) is a composition layer for .NET that improves the flexibility, maintainability and testability of large applications. MEF can be used for third-party plugin extensibility, or it can bring the benefits of a loosely-coupled plugin-like architecture to regular applications.
Over the last few years I've found very little time to work on LuaInterface. Certain platforms such as Mono/Xamarin and WinRT aren't supported well (if at all) and there are still quite a few bugs open. I would like to suggest that the community look towards Vinicius Jarina's project on Github called NLua moving forward. NLua is a fork of this project and I expect it will see more frequent updates over there than I am able to achieve here on Google Code. - Craig Presti LuaInterface is a library for integration between the Lua language and Microsoft .NET platform's Common Language Runtime (CLR).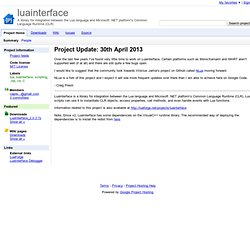 luainterface - A library for integration between the Lua language and Microsoft .NET platform's Common Language Runtime (CLR)
protobuf-net - Fast, portable, binary serialization for .NET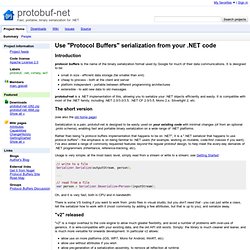 Introduction protocol buffers is the name of the binary serialization format used by Google for much of their data communications. It is designed to be:
jgauffin/griffin.networking
NetSockets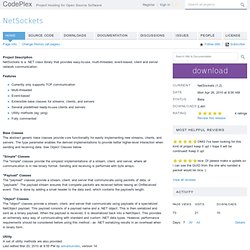 Project DescriptionNetSockets is a .NET class library that provides easy-to-use, multi-threaded, event-based, client and server network communication. Features Currently only supports TCP communicationMulti-threadedEvent-basedExtensible base classes for streams, clients, and serversSeveral predefined ready-to-use clients and serversUtility methods (eg: ping)Fully commentedBase ClassesThe abstract generic base classes provide core functionality for easily implementing new streams, clients, and servers. The type parameter enables the derived implementations to provide better higher-level interaction when sending and receiving data.
This is an interim release, until 0.5 is ready. The latest source can always be had on our Subversion server hosted over here: svn://svn.wheelmud.net/WheelMUDSharp/trunk Tons of changes! Separated system data from game dataSelected Warrior,Rougue, & Mage as our reference gaming system for game rulesSystem data goes on relational database - SQLiteGame data goes on document database - RavenDbFleshed out behavior based composition of MUD itemsThe majority of our systems are now dynamically loaded through MEFSwitched from NHibernate to ServiceStack.ORMLite.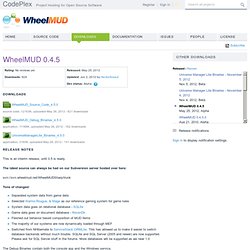 WheelMUD - Download: WheelMUD 0.4.5
Oren Eini (Ayende Rahien): THE DB DISASSEMBLY KIT In this talk we will go into the details that actually make up the different components in a database, discuss how they are put together and what are the different design choices that you have for each of those components and how they work together. We will cover on-disk and in-memory storage, transactions and ACID, Write-Ahead Logging & Append-Only mode and a lot of details about how databases (relational and NOSQL) are put together.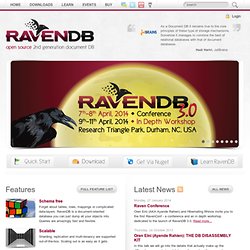 RavenDB - 2nd generation document database
RavenDB tutorial, part 1 - introduction and basic operations - Geekbeing
When starting new project we (at least lots of my collegues do) tend to automatically think about SQL whilst picking data backend for our application. Or to be honest - we sometimes skip the thinking part, picking SQL is a reflex. If you only know how to use a hammer, then everything looks like a nail. And then solving any problem automatically means hitting things hard with it (the hammer, not the nail). Credit should go where the credit's due and I think one of the benefits of the Ruby/Rails bloom is wider popularity of so-called "No-SQL" databases. In R/R world the two most commonly heard names are: MongoDB and CouchDB.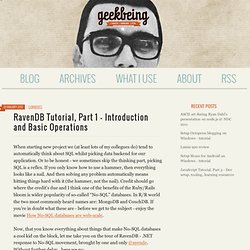 What Is NUnit? NUnit is a unit-testing framework for all .Net languages. Initially ported from JUnit, the current production release, version 2.6, is the seventh major release of this xUnit based unit testing tool for Microsoft .NET. It is written entirely in C# and has been completely redesigned to take advantage of many .NET language features, for example custom attributes and other reflection related capabilities. NUnit brings xUnit to all .NET languages. About Us
NUnit - Home
Threading in C# Joseph Albahari Last updated: 2011-4-27 Translations: Chinese | Czech | Persian | Russian | Japanese Download PDF
Ninject
*The project is in transition, moving to Codeplex and Github for the 2.0 release. Please bear with us in the meantime! Ninject is a lightweight and lightning-fast .NET dependency injection framework. User Guide -- needs updated for 2.0 releaseSource Repository (Github)Project websiteNate's blog
This article will serve as an elementary tutorial to help you quickly get started with the lightweight and open sourced dependency injector for .NET applications - Ninject. Introduction The main reason driving me to write this article is due to Balder - the famous 3D engine targeting Silverlight game. As you may image, in the infrastructure of the Balder engine, Ninject is widely used. In fact, in developing modern and large-scaled applications, especially underlining architectures, to create a loosely-coupled, highly-cohesive, and flexible ones, some dependency inject frameworks are usually required to come to help. Ninject is one of these; it mainly targets .NET based C# area.
Get Started with Ninject 2.0 in C# Programming
News NAnt 0.92 Release June 9, 2012 The release for NAnt 0.92 is available NOW! This release focuses on extending our already strong support for multiple target frameworks, bringing improved flexibility and performance. A number of outstanding issues have been fixed as well. A complete list of changes and new features is available here.