US Shop
Paris Trucks
GoldCoast Longboards
Gold Coast Longboard Guide
SoCal SkateShop - SCS - Your One Stop Skateboard Shop - Skateboards and Skateboard Accessories
Skate | Never Summer Industries
Never Summer Industries has been manufacturing excellence since 1991. Over 20 years of building snowboards by hand, using our exclusive construction methods and innovative designs, has given Never Summer an undisputed reputation as the world's best. When it comes to our line of premium longboards, you can expect nothing less than the same level of quality and attention to detail. Each Never Summer Longboard is hand built from start to finish in our Denver, Colorado factory utilizing our revolutionary longboard technologies.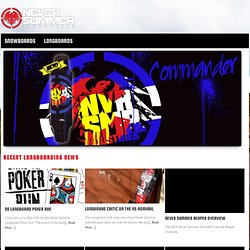 Mindless Longboards : Products
Original just turned 10 y/o so we decided to throw down. This is easily the biggest party we have ever thrown but it won't last forever. Come get some.
Original
home
Gravity Skateboards: High Performance Retro and Longboard Skateboards
GROMBIZ
EarthWing Skateboards NYC
||| comet skateboards |||
Sector 9