How to Cakes!
How to: Dulce de Leche Pound Cake. How to: 1 minute Peanut Butter cake. Picture this scene: it's 8:30 in the evening.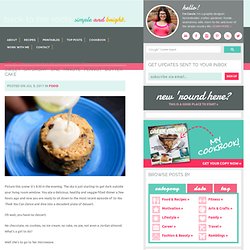 The sky is just starting to get dark outside your living room window. You ate a delicious, healthy and veggie-filled dinner a few hours ago and now you are ready to sit down to the most recent episode of So You Think You Can Dance and dive into a decadent plate of dessert. Oh wait, you have no dessert. How to: Cupcakes inside Eggshells. I watched my Grandmother's face when she realized that I hadn't handed her a hard boiled egg but rather a cake baked inside a real egg shell.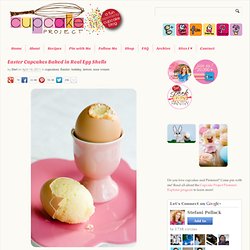 Her eyes were filled with wonder and I could envision what she must have looked like as a tyke the very first time she saw a red balloon float across the sky or the the trunk of a giant elephant spewing a stream of water. "Crack it on the table," I told her. Eggs were cracked, cupcakes were eaten, and I was perceived as a cupcake Houdini. Update 3/19/2012: For the basic instructions on these Easter cupcakes, keep reading.
How to: Vertical layer cake. I really need to preface this tutorial with...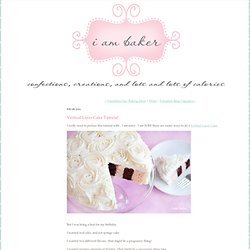 I am sorry. I am SURE there are easier ways to do a Vertical Layer Cake. But I was being a brat for my birthday. How to: Cupcake bites. Although this is a Bakerella original, I actually got the idea from a friend who learned about cake pops from me and has never even heard of Bakerella.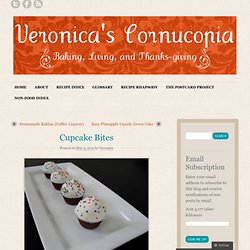 She was going to make cake balls for her sister's wedding, discovered that they are a pain to dip (I AGREE!! I WOULD LOVE MAKING CANDY IF IT DIDN'T EVER INVOLVE DIPPING THINGS IN CHOCOLATE! ARRRRG!) , and then came up with this idea all on her own. How to: Cupcakes with Flaming Strawberry. Call me easily amused, but these little torch-topped cupcakes delight me.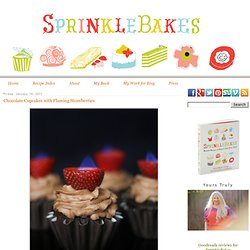 Besides being a cute novelty item for a party, I think they would add a little drama to the end of a romantic meal. I've been looking for something different to serve for Valentine's dessert, and this is definitely different. The strawberries are hollowed out and filled with a bit of liquor, then ignited with a match. For the cake portion, I chose a One Bowl Chocolate Cupcake recipe because 1. it's quick 2. it is easy, and 3. it fits my prerequisite for a light ending on date night. I should say, a light ending provided you don't eat too many. How To: Make Banana Cake. I've had plenty of banana bread in my day.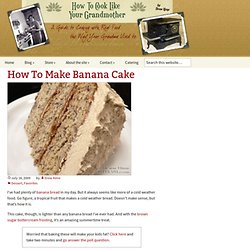 But it always seems like more of a cold weather food. Go figure, a tropical fruit that makes a cold weather bread. Doesn't make sense, but that's how it is. This cake, though, is lighter than any banana bread I've ever had. And with the brown sugar buttercream frosting, it's an amazing summertime treat. How to: Rainbow Cake! Aaannnndddd, she's back!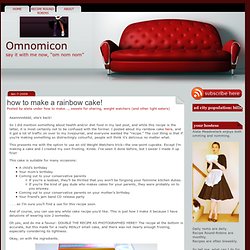 So I did mention something about health and/or diet food in my last post, and while this recipe is the latter, it is most certainly not to be confused with the former. I posted about my rainbow cake here, and it got a lot of traffic on over to my livejournal, and everyone wanted the "recipe." The cool thing is that if you're making something so distractingly colourful, people will think it's delicious no matter what.
This presents me with the option to use an old Weight Watchers trick—the one-point cupcake. Except I'm making a cake and I created my own frosting.
---