SP Competitors
Advertisement by LinkedIn Member
Davinci Migrator for SharePoint 2010 offers comprehensive risk-based control when moving to the latest SharePoint platform, allowing you to discover, transform, iterate, and control your migration activities. Davinci was architected for SharePoint 2010, and manages migrations from SPS2003 and MOSS 2007 to your 2010 environment. Davinci Migrator reduces the risk, lowers the overall cost, and shortens the time it takes to complete a SharePoint 2010 migration. By helping administrators with the discovery and planning of their migrations, Davinci Migrator delivers a unique feature set to the SharePoint market by reducing the number of failed migration iterations and shortening project schedules. Davinci Migrator provides complete control over the migration, enabling users to plan and schedule on their own terms. By supplying migration estimates, reporting templates, and a powerful scheduling engine, Davinci helps users build more realistic migration plans.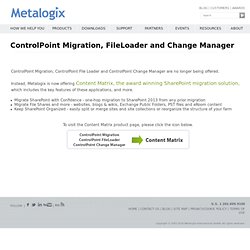 Data Sheet - Davinci Migrator
MetaVis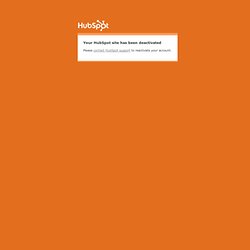 Use Case: Identifying SharePoint Sites with Custom Web Parts A common SharePoint use case: After several test migrations, you've identified several custom and third-party web parts that are causing aspects of your migration to fail. What you would like to do is identify all of the sites on your farm (or across multiple farms) that contain these custom web parts, and then either test those sites individually, flag them for later migration when you've had a chance to upgrade or replace the offending web parts, or even go through and remove the web parts so that the migration can continue.
Use Case: Identifying SharePoint Sites with Custom Web Parts
Switzerland AG - Ihr Partner für SharePoint, Collaboration und Software-Entwicklung
SharePoint Web Parts from Content and Code - Homepage
Titanium Security Software – Web Protection - Trend Micro USA
UK - AntiVirus, Anti-Spyware, Endpoint Security, Backup, Storage Solutions
CommVault: United Kingdom & Ireland
unnamed pearl
SharePoint Administration | SharePoint Migration | Axceler
Solutions for Microsoft Content Lifecycle Management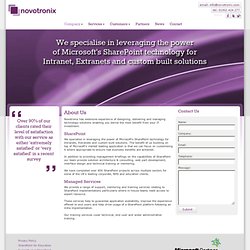 Page Content Novotronix has extensive experience of designing, delivering and managing technology solutions enabling you derive the most benefit from your IT investment.
About Us
SharePoint Administration, Backup & Restore, Migration, and Storage.
SharePoint Migration Solutions - SharePoint Deployment, SharePoint Import, SharePoint Convert – Tzunami.com