SP Competitors
Advertisement by LinkedIn Member
Data Sheet - Davinci Migrator
MetaVis Technologies is a Microsoft Gold certified ISV that develops software that enables information-driven organizations to know their content. Through our unique suite of solutions for Microsoft SharePoint, Office 365, Azure, Exchange and OneDrive (formerly SkyDrive), as well as file systems or pervasive cloud-based content destinations, we help take the complexity out of getting the most knowledge from your content. Whether in the cloud or the data center, helping you manage and protect your content is our passion. MetaVis products are agentless, intuitive, easy to implement, easy to use, and provide immediate value to your business. Let MetaVis help you know your content!
MetaVis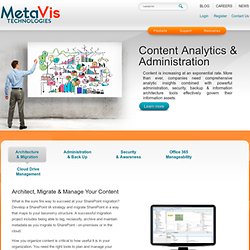 Use Case: Identifying SharePoint Sites with Custom Web Parts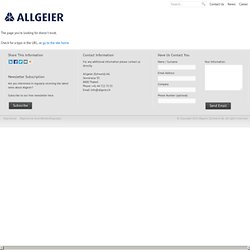 Turn on more accessible mode Sign In <div id="ctl00_ctl62_noscript">It looks like your browser does not have JavaScript enabled. Please turn on JavaScript and try again.
Switzerland AG - Ihr Partner für SharePoint, Collaboration und Software-Entwicklung
SharePoint Web Parts from Content and Code - Homepage
Titanium Security Software – Web Protection - Trend Micro USA
UK - AntiVirus, Anti-Spyware, Endpoint Security, Backup, Storage Solutions
CommVault: United Kingdom & Ireland
unnamed pearl
Creating efficient processes speeds up any organization. That's why we're here. Nintex software helps work flow within your organization. Built on today's most used content and collaboration platforms, our workflow, forms, and mobile products help you automate business processes - quickly and easily - and extend them to where people actually work, on the devices they use. Start Easily: Get up and running right away, automating everyday processes like requesting reviews and approvals, routing tasks, and collaborating on documents. Scale Quickly: Build powerful, enterprise-wide workflow solutions that are mobile, social and cloud-enabled, without breaking your budget.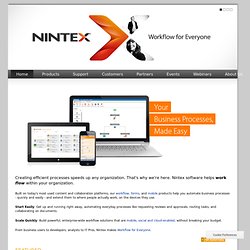 SharePoint Administration | SharePoint Migration | Axceler
Solutions for Microsoft Content Lifecycle Management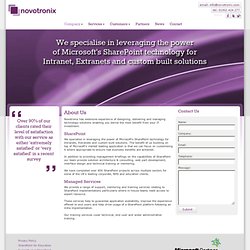 Page Content Novotronix has extensive experience of designing, delivering and managing technology solutions enabling you derive the most benefit from your IT investment. SharePoint We specialise in leveraging the power of Microsoft's SharePoint technology for Intranets, Extranets and custom built solutions. The benefit of us building on top of Microsoft's market leading application is that we can focus on customising it where appropriate to ensure real business benefits are achieved. In addition to providing management briefings on the capabilities of SharePoint our team provide solution architecture & consulting, web part development, interface design and technical training or mentoring.
About Us
SharePoint Administration, Backup & Restore, Migration, and Storage.
SharePoint Migration Solutions - SharePoint Deployment, SharePoint Import, SharePoint Convert – Tzunami.com