New Hotness
Is This the First BlackBerry 10 Phone? A BlackBerry enthusiast site claims to have an image of the Research In Motion's BlackBerry 10 smartphone, called the "London.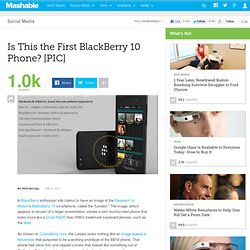 " The image, which appears to be part of a larger presentation, shows a slim touchscreen phone that looks more like a Droid RAZR than RIM's trademark keyboard phones, such as the Bold. As shown on CrackBerry.com, the London looks nothing like an image leaked in November that purported to be a working prototype of the BB10 phone. That phone had silver trim and clipped corners that looked like something out of Battlestar Galactica, giving the phone a distinctive design among the smartphones currently on the market.
This phone appears much more conventional, looking like any number of slim, big-screen Android phones like the RAZR or LG Nitro HD. Creepy iPhone Case Forces You to Interact with Siri. The Rapid Rise of Pinterest's Blockbuster User Engagement [CHART] "Time on site" is one of the most valuable metrics for social networks, publishers and online marketers.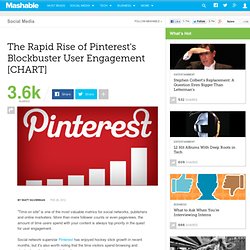 More than mere follower counts or even pageviews, the amount of time users spend with your content is always top priority in the quest for user engagement. Social network superstar Pinterest has enjoyed hockey stick growth in recent months, but it's also worth noting that the time visitors spend browsing and pinning has also increased sharply. How Pinterest Can Get Your Brand Attention [INFOGRAPHIC] If your brand isn't on Pinterest, you could be missing out on a growing stream of potential customers.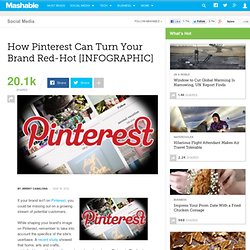 While shaping your brand's image on Pinterest, remember to take into account the specifics of the site's userbase. A recent study showed that home, arts and crafts, style/fashion and food are the most popular categories on Pinterest.
---