ASP.NET
Windows Communication Foundation FAQ quick starter Part 1
Updated with links of WCF-Part 2, WPF, WWF, WCF Tracing FAQ, 8 steps to enable Windows authentication on WCF BasicHttpBinding, Difference between BasicHttpBinding and WsHttpBinding & WCF FAQ Part 3 – 10 security related FAQ, SilverLight FAQ Part 1 and Part 2, One-Many and One-One relationship using LINQ to SQL Windows Communication Foundation FAQ quick starter - Part 1 Introduction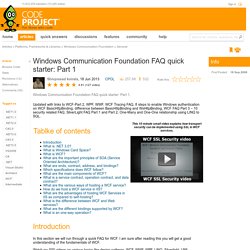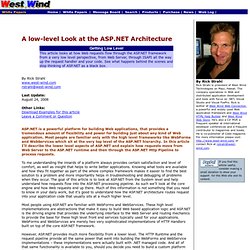 This article looks at how Web requests flow through the ASP.NET framework from a very low level perspective, from Web Server, through ISAPI all the way up the request handler and your code. See what happens behind the scenes and stop thinking of ASP.NET as a black box. By Rick Strahl www.west-wind.com rstrahl@west-wind.com Last Update: August 24, 2008
A low-level Look at the ASP.NET Architecture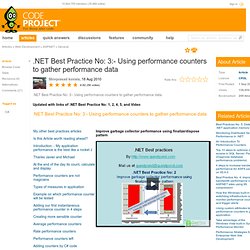 Updated with links of .NET Best Practice No: 1, 2, 4, 5, and Video .NET Best Practice No: 3:- Using performance counters to gather performance data Is this Article worth reading ahead ? This article discusses how we can use performance counter to gather data from an application. So we will first understand the fundamentals and then we will see a simple example from which we will collect some performance data. Introduction: - My application performance is the best like a rocket J
.NET Best Practice No: 3:- Using performance counters to gather performance data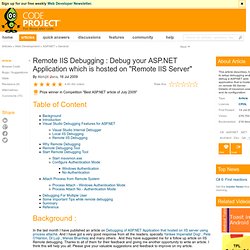 Table of Content Background : In the last month I have published an article on Debugging of ASP.NET Application that hosted on IIS server using process attaché . And I have got a very good response from all the readers, specially Yankee Imperialist Dog! , Pete O'Hanlon , Dr.Luiji , Manas Bhardwaj and many others .
Remote IIS Debugging : Debug your ASP.NET Application which is hosted on "Remote IIS Server"
Introduction Most developers are familiar with the high level abstractions that ASP.NET provides for them such as Web Forms and Web Services. However, underneath these abstractions sits a very interesting and advanced architecture. Knowing the under works of this architecture not only elevates the ASP.NET developer into the advanced zone, but also helps him/her write better designed applications and solve advanced problems that occur way below the high level ASP.NET use. This article inspects how ASP.NET (and IIS) handles requests.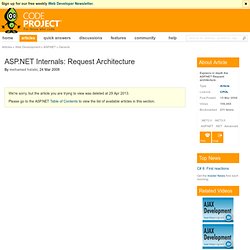 ASP.NET Internals: Request Architecture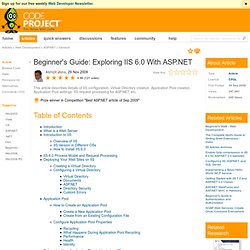 Table of Contents Introduction In the past, I have written a few articles for beginners and had got a very good response from all readers. This time I have planned to write an article on IIS 6.0 and Integration of IIS with ASP.NET. I have worked on IIS 5.1, IIS 6.0, and IIS 7.0.
Beginner's Guide : Exploring IIS 6.0 With ASP.NET
Exploring Caching in ASP.NET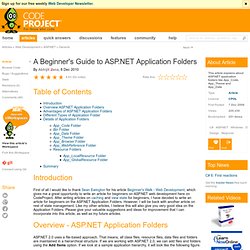 Table of Contents Introduction First of all I would like to thank Sean Ewington for his article Beginner's Walk - Web Development , which gives me a great opportunity to write an article for beginners on ASP.NET web development here on CodeProject. After writing articles on caching and view state for beginners, I have decided to write an article for beginners on the ASP.NET Application Folders. However, I will be back with another article on rest of state management. Like my other articles, I believe this will also give you very good idea on the Application Folders.
A Beginner's Guide to ASP.NET Application Folders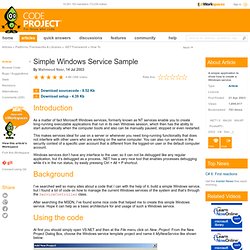 Introduction As a matter of fact Microsoft Windows services, formerly known as NT services enable you to create long-running executable applications that run in its own Windows session, which then has the ability to start automatically when the computer boots and also can be manually paused, stopped or even restarted. This makes services ideal for use on a server or whenever you need long-running functionality that does not interfere with other users who are working on the same computer. You can also run services in the security context of a specific user account that is different from the logged-on user or the default computer account. Windows services don't have any interface to the user, so it can not be debugged like any regular application, but it's debugged as a process. .NET has a very nice tool that enables processes debugging while it's in the run status, by easily pressing Ctrl + Alt + P shortcut.
Simple Windows Service Sample
Common IIS + ASP.NET Issues
Feedback Copyright Content created by Neil C. Obremski . Please make a link to this page if you copy any portion of these works.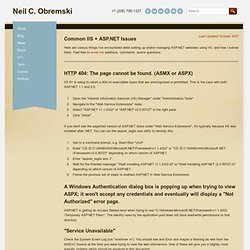 Ajax Update Progress: Modified - Bryan Sampica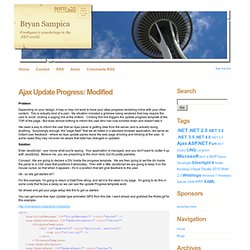 Problem: Depending on your design, it may or may not work to have your atlas progress rendering inline with your other content. This is actually kind of a pain. My situation included a gridview being rendered that may require the user to scroll, clicking a paging link at the bottom.
Exception Handling Best Practices in .NET
Contents Introduction "My software never fails". Can you believe it? I'm almost hearing you all, screaming that I'm a liar.
United States (English) Sign in Home Library Learn Samples Downloads Support Community Forums MSDN Library
Explained: Forms Authentication in ASP.NET 2.0
Best Practices No 5: - Detecting .NET application memory leaks Introduction Memory leaks in .NET application have always being programmer's nightmare. Memory leaks are biggest problems when it comes to production servers. Productions servers normally need to run with least down time.
Best Practices No 5: - Detecting .NET application memory leaks
Web User Control in Asp.Net - Asp.Net, C#, SQL Blog
All About User Controls in .Net Getting started with Web User Control in Asp.net and lets explain it easy step by step. What is Web User Control? A Web User Control, is a Web Form.
ASP.NET Performance Overview
Dozens of variations on the title of this post are some of the most common searches that bring people here to Encosia. Unfortunately, the search engines all point to a post that doesn't answer the question. It's also a frequent question raised on the ASP.NET message boards, typically without a satisfactory answer provided. However, it is an important question, the answer to which is important to understand.
Why do ASP.NET AJAX page methods have to be static? - Encosia
ASP.Net 2.0 - Master Pages: Tips, Tricks, and Traps
Working with the ASP.NET Global.asax file