Art
Get flash to fully experience Pearltrees
Inspired by the song of Jay Chou, Shanghai-based artist Hong Yi decided to create his portrait using nothing but Nescafe coffee stains on the bottom of a mug . Yi says that it was "a tricky medium to use – too much water and the rings wouldn't form easily, very little water and you'd have to be precise with where you place the cup coz the rings would pretty much be permanent." The 26-year-old artist was inspired by the first line of the song about lifting up a coffee cup off the saucer and "the ending of the song about fragmented pieces – this is shown through the portrait as a whole – how it's formed by many individual rings, many of them broken and imperfect." Website: http://hongyi.carbonmade.com <p style="text-align:right;color:#A8A8A8"></p>
The hands are a notorious source of frustration. This section won't concentrate on the muscle structure, since the hand is very complex in this regard, and knowing this won't help much in drawing them. Instead, we'll look at proportions, range of motion, and possible simplifications.
(click images for detail) For the better part of three decades multidisciplinary artist Guy Laramee has worked as a stage writer, director, composer, a fabricator of musical instruments, a singer, sculptor, painter and writer. Among his sculptural works are two incredible series of carved book landscapes and structures entitled Biblios and The Great Wall , where the dense pages of old books are excavated to reveal serene mountains, plateaus, and ancient structures. Of these works he says: So I carve landscapes out of books and I paint Romantic landscapes. Mountains of disused knowledge return to what they really are: mountains.
I love the look of family photos printed on canvas, but I never knew I could make them at home! After transferring photos to fabric , I was super excited to try some pieces using stretched canvas. I hope this inspires some of you to make something special for your home... Here's how I transferred my photo to canvas: 1. Supplies needed- stretched canvas (I chose an 8x10 size), gel medium (I used this kind from Liquidex ), paint brush and the image you want to transfer (laser copy) and a spray bottle filled with water.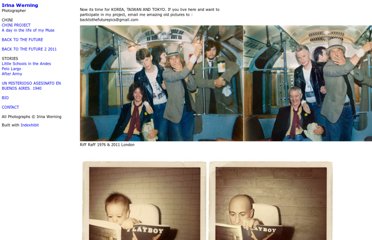 Now its time for KOREA, TAIWAN AND TOKYO. If you live here and want to participate in my project, email me amazing old pictures to : backtothefuturepics@gmail.com Riff Raff 1976 & 2011 London