2010-09
Last.fm Meets Twitter. Deborah Schultz: World and Web - not as connected as we think. Over on the Tummelvision podcast we chat weekly with a broad swath of people on the intersection of technology, culture and business.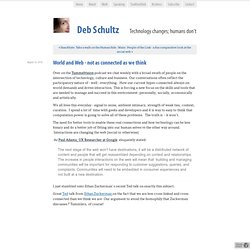 Our conversations often reflect the participatory nature of - well - everything. How our current hyper-connected-always-on world demands and drives interaction. This is forcing a new focus on the skills and tools that are needed to manage and succeed in this environment -personally, socially, economically and artistically. Social Me Me Me Me Me Media. With more places to share content on more networks, each having their own diverse social graphs, connections and features, many of us are splintering our online identities, choosing one or a few communities over others, and optimizing our sharing and consumption to fit the model that best works for us - and that self-assessment should be constantly changing as our own preferences, and those sites' capabilities change.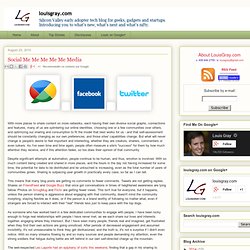 But what will never change is people's desire to feel important and interesting, whether they are creators, sharers, commenters or even lurkers. As I've seen time and time again, people often measure a site's "success" for them by how much attention they receive, and if this attention fades, so too does their opinion of that community. Despite significant attempts at automation, people continue to be human, and thus, emotion is involved.
Chrome to iPhone Sends Links to your iOS Device from Chrome. Am I mayor yet? We made a quick yet long-awaited tweak to our apps today.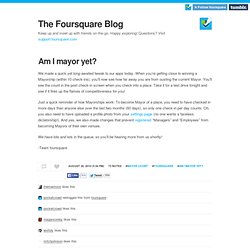 When you're getting close to winning a Mayorship (within 10 check-ins), you'll now see how far away you are from ousting the current Mayor. You'll see the count in the post check-in screen when you check into a place. Google continues social buying spree with Angstro. Google just revealed its latest social networking acquisition — a startup called Angstro, which builds applications pulling useful information from social networks.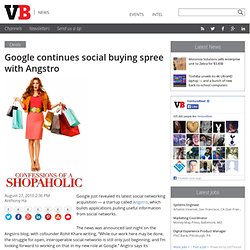 The news was announced last night on the Angstro blog, with cofounder Rohit Khare writing, "While our work here may be done, the struggle for open, interoperable social networks is still only just beginning, and I'm looking forward to working on that in my new role at Google." Angtro says its products include "apps to discover hot new photos on Facebook, improve Caller ID by using LinkedIn profiles, [add] style and links to Twitter, and create a real-time social address book."
Citing a person familiar with the situation, the Los Angeles Times reported this morning that Khare was convinced to join Google because of vice president of engineering Vic Gundotra's commitment to social networking. 6300 Sherbrooke E. :: Montréal, QC. Superclub Videotron :: Montréal, QC. Montreal Museum of Fine Arts :: Montreal, Canada. Station Cadillac :: Montreal, Canada. Stationnement Parking CREIT :: Montreal, Quebec. Bellagio :: Montreal, Quebec. Dépanneur du Métro (Peel) Capri Restaurant Delicatessen :: Montréal, QC. Untitled. Microsoft Co-Founder Sues Apple, Google, Facebook, YouTube and 7 Other Major Companies. Advertisements Microsoft's co-founder Paul Allen has sued 11 major companies: Apple, Google, Facebook, eBay, AOL, Yahoo!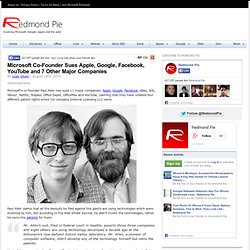 , Netflix, Staples, Office Depot, OfficeMax and YouTube, claiming that they have violated four different patent rights which his company Interval Licensing LLC owns. Paul Allen claims that all the lawsuits he filed against the giants are using technologies which were invented by him, but according to the Wall Street Journal, he didn't invent the technologies, rather he owns the patents for them. Mr. Fire at Tenn. Mosque Building Site Ruled Arson. Updated at 9:25 p.m.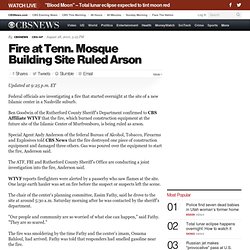 ET Federal officials are investigating a fire that started overnight at the site of a new Islamic center in a Nashville suburb. Ben Goodwin of the Rutherford County Sheriff's Department confirmed to CBS Affiliate WTVF that the fire, which burned construction equipment at the future site of the Islamic Center of Murfreesboro, is being ruled as arson. Special Agent Andy Anderson of the federal Bureau of Alcohol, Tobacco, Firearms and Explosives told CBS News that the fire destroyed one piece of construction equipment and damaged three others. Gas was poured over the equipment to start the fire, Anderson said. Facebook Partners with Y Combinator to Give Start-Ups Resources, Incentives | Tomio Geron | Voices | AllThingsD.
Google: 1 million Gmail calls on first day | Techshares. Free programming courses | Uncompatible. Insta Cheques. Elijah Bailey at Station Cadillac. Hotel Le Crystal :: Montreal, Canada. Social Networking Stats - social.implu.com. Copacabana :: Montreal, Canada. Caisse populaire St-donat de Montreal :: Montreal, Quebec. Station Bonaventure :: Montreal, Canada. Petro-Canada :: Montreal, Canada. %5BZN2-%5D%20Zu%20ND%20Odyofilz%20-%200044%20-%20I%20am%20straight%20going%20for%20some%20n. Zu%20ND%20Odyofilz%20-%20Video%20Rush%20through%20the%20Forest. Suco Resto Lounge :: Montreal, Canada. Universel - Dejeuner et Grillades :: Montréal, QC. Stationnement Parking (2015 Peel) :: Montréal, QC. Stationnement Parking :: Montréal, QC. Video: Google TV Gets Demoed In Berlin. Google's long awaited Google TV platform is getting closer to a consumer launch, and last week Sony sets running the platform were shown at the IFA show in Berlin.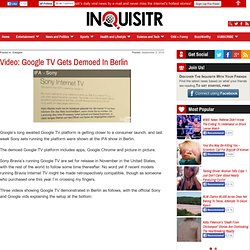 The demoed Google TV platform includes apps, Google Chrome and picture in picture. Sony Bravia's running Google TV are set for release in November in the United States, with the rest of the world to follow some time thereafter. No word yet if recent models running Bravia Internet TV might be made retrospectively compatible, though as someone who purchased one this year I'm crossing my fingers. Google Wave n'est pas encore enterré - Pratique sur L'Informaticien. HP Confirms It Is Suing Mark Hurd For Potential Leakage Of Trade Secrets To Oracle. It seems like only yesterday that Oracle announced it was hiring former HP CEO Mark Hurd to be a Co-President and member of the Board — that's because it was just yesterday.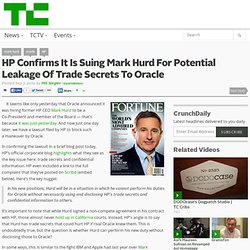 And now just one day later, we have a lawsuit filed by HP to block such a maneuver by Oracle. In confirming the lawsuit in a brief blog post today, HP's official corporate blog highlights what they see as the key issue here: trade secrets and confidential information. Google's Color-Changing Logo and What the Company Is About to Announce. The Google homepage is sporting a new logo that changes color as you type, and it's likely a big hint as to what the company will announce at its "can't miss" search event on Wednesday.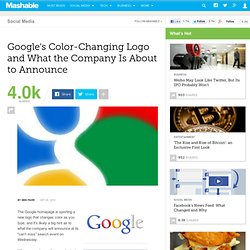 When you arrive on the search giant homepage today, you'll be greeted with a gray Google doodle. When you start typing a search query though, the color magically returns to Google's iconic logo. This follows yesterday's logo, a collection of animated particles that react to the movement of the cursor. This Is How a Heavy Storm Looks Inside a Cruise Liner. Bell dévore CTV pour son contenu multiplateformes. À lire aussi: Le «retour vers le futur» de Bell Canada Michel MungerArgent Le contenu multiplateformes n'est pas une option, c'est une nécessité, dit Bell Canada (BCE), qui débourse 3,2 G$ pour acquérir la totalité du réseau de télé CTV.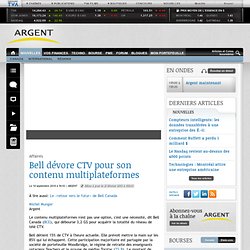 Bell détient 15% de CTV à l'heure actuelle. Elle prévoit mettre la main sur les 85% qui lui échappent. Cette participation majoritaire est partagée par la société de portefeuille Woodbridge, le régime de retraite des enseignants ontariens Teachers et le groupe de médias Torstar (TS.B). Fwd: 祝!赤塚不二夫生誕75周年....... Thank you Google!... - Zu from AOD. Reboot RSS readers? Sorry, that train has left the station. Loic Le Meur, CEO of Seesmic, and I were arguing last week about whether RSS has a future or not. He speaks up for "it has a future" on his blog. Dave Winer today has a great post on how to reboot RSS. HOW TO: Run Your Business Online with $10 and a Google Account. This post originally appeared on the American Express OPEN Forum, where Mashable regularly contributes articles about leveraging social media and technology in small business.
Online infrastructure for your small business doesn't have to be complicated or expensive. By leveraging many of the free and inexpensive products offered by Google, you can create a website, a domain-branded e-mail system, and a document collaboration platform, all unified under one master login and password. Fwd: Loud Noises Be Gone! Mute Posts by Source in... - Zu from AOD. Scobleizer 09/14/10 05:02PM, scobleizer 09/14/10 05:02PM Scobleizer on USTREAM. The Web.
W.sns. Legal Battle May Force CIA to Return Drone Code to Sender Tech Firm Wants Faulty Pirated Software Taken Out of Circulation An East Coast software development company is seeking a court order from a judge in Boston that, if granted, could require the CIA to return "hacked" software it acquired for use in the agency's Predator Drone program. The software firm, Intelligent Integration Systems Inc., or IISI, filed a motion recently for a preliminary injunction in Suffolk County Superior Court, where it has been engaged since last November in a heated legal battle with Marlborough, Mass. -based computer maker Netezza Corp. Should the motion be granted, Netezza would be forced to round up all IISI software programs that it allegedly pirated, re-engineered for a new computer product, and then sold to various customers, including the CIA. Facebook's phone as obvious as nose on your face. Photos of the San Bruno Pipeline Explosion by Thomas Hawk. Mobile. Milan on Carousel.
Keanu And A Cupcake - 100922R5_REEVES_B-GR_06.jpg | Dlisted. Who frowns at an innocent and sweet cupcake? Who stares at a cupcake as though it's the reason why their urethra is swollen to the point where the jizz just dribbles out? Who looks down at a cupcake like it's the cause of that annoying ass mosquito buzzing in their ear in the middle of the night and waking them up? KEANU REEVES DOES!
---