Inteligencia Artificial
LUIS ALI ORTIZ MARTINEZ - Outlook Web App. Puj. LUIS ALI ORTIZ MARTINEZ - Outlook Web App. Scientists say they're getting closer to Matrix-style instant learning. Fulltext. Cookiedetectresponse. You have been redirected to this page for one of the following reasons: Either cookies are not enabled on your browseror Your network configuration is causing cookies to be lost or not function properly.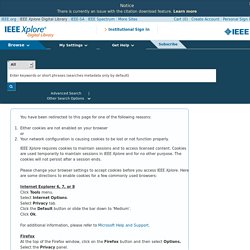 IEEE Xplore requires cookies to maintain sessions and to access licensed content. Cookies are used temporarily to maintain sessions in IEEE Xplore and for no other purpose. Talk on Artificial Intelligence in Information Retrieval Systems Applications. AI is the current scientific and technological development in a frontier discipline in computer science, control theory, information theory, neural psychology, philosophy, linguistics and other disciplines developed on the basis of the study, is a very comprehensive a strong interdisciplinary.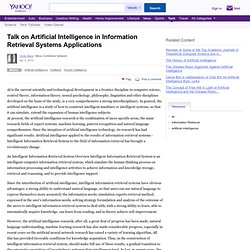 In general, the artificial intelligence is a study of how to construct intelligent machines or intelligent systems, so that it can simulate, extend the expansion of human intelligence subjects. At present, the artificial intelligence research is the combination of more specific areas, the main research fields of expert systems, machine learning, pattern recognition and natural language comprehension. Since the inception of artificial intelligence technology, its research has had significant results. Artificial intelligence applied to the results of information retrieval systems - Intelligent Information Retrieval System to the field of information retrieval has brought a revolutionary change. Xiaofei He's Publications.
Gaussian Mixture Model with Local Consistency Jialu Liu, Deng Cai, and Xiaofei He.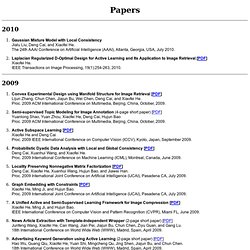 The 24th AAAI Conference on Artificial Intelligence (AAAI), Atlanta, Georgia, USA, July 2010. Laplacian Regularized D-Optimal Design for Active Learning and Its Application to Image Retrieval [PDF] Xiaofei He. IEEE Transactions on Image Processing, 19(1):254-263, 2010. Information Processing & Management - Artificial intelligence in information retrieval systems.
A survey is given of the potential role of artificial intelligence in retrieval systems.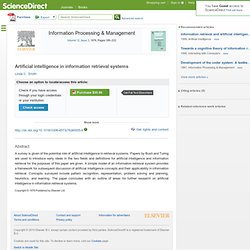 Papers by Bush and Turing are used to introduce early ideas in the two fields and definitions for artificial intelligence and information retrieval for the purposes of this paper are given. A simple model of an information retrieval system provides a framework for subsequent discussion of artificial intelligence concepts and their applicability in information retrieval. Concepts surveyed include pattern recognition, representation, problem solving and planning, heuristics, and learning.
---