Css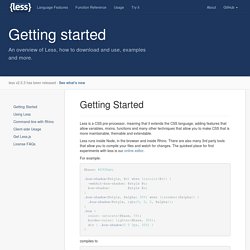 Less is a CSS pre-processor, meaning that it extends the CSS language, adding features that allow variables, mixins, functions and many other techniques that allow you to make CSS that is more maintainable, themable and extendable. Less runs inside Node, in the browser and inside Rhino. There are also many 3rd party tools that allow you to compile your files and watch for changes. For example: compiles to
CSS Help Pile - A huge pile of CSS-related tips, tricks & resources. - Artypapers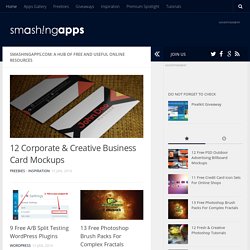 High Quality Yet Free Responsive HTML5 Templates HTML5, a web development paradise on your screen with rich advanced capabilities, surprisingly grand features, is an every developer first choice of platform to have their site upon. As beauty of design and development unfolds with HTML5, so does its challenge of operating it.
1. Brighten Colors If you have a design that you just feel isn't anything special – stop – crank up the color intensity – then reevaluate. Saturation plays a big role as far as mood goes. If you ever feel like you're lacking inspiration when it comes to color schemes there are some great online tools, not to mention our own color series.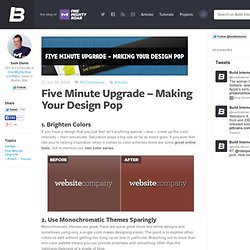 ColorCombos When designing a website, one of the firsts (and most important) steps of the process is to choose a color scheme. Color Combos allow you to browse thousand of different colors combinations for getting inspired for your upcomming design.