Css
Html. Xhtml. LESS « The Dynamic Stylesheet language. CSS Help Pile - A huge pile of CSS-related tips, tricks & resources. - Artypapers. Free and Useful Online Resources for Designers and Developers @ SmashingApps. Five Minute Upgrade – Making Your Design Pop | Build Internet! 1.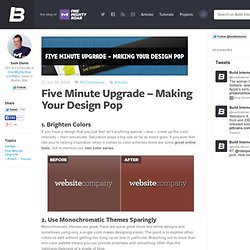 Brighten Colors If you have a design that you just feel isn't anything special – stop – crank up the color intensity – then reevaluate. Saturation plays a big role as far as mood goes. If you ever feel like you're lacking inspiration when it comes to color schemes there are some great online tools, not to mention our own color series. 15 sites web developers and designers should know. ColorCombos When designing a website, one of the firsts (and most important) steps of the process is to choose a color scheme.
Color Combos allow you to browse thousand of different colors combinations for getting inspired for your upcomming design.
---