Strategy
For energy-starved India, solar has huge potential. By K Subramanya Some people paint a completely wrong picture of the relevance, requirement and importance of solar energy for India.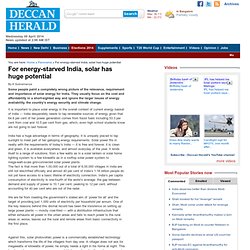 They usually focus on the cost and affordability in a short-sighted way and ignore the larger issues of energy availability, the country's energy security and climate change. It is important to place solar energy in the overall context of current energy basket of India — India desperately needs to tap renewable sources of energy given that 64.6 per cent of her power generation comes from fossil fuels including 53.3 per cent from coal and 10.5 per cent from gas, which, even high school students know are not going to last forever. India has a huge advantage in terms of geography. Solar power in India. National Solar Mission in India India is densely populated and has high solar insolation, an ideal combination for using solar power in India..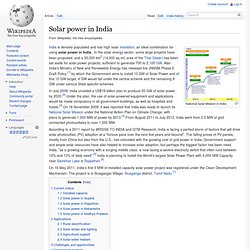 In the solar energy sector, some large projects have been proposed, and a 35,000 km2 (14,000 sq mi) area of the Thar Desert has been set aside for solar power projects, sufficient to generate 700 to 2,100 GW. India's Solar Power. Posted on 15 May 2007.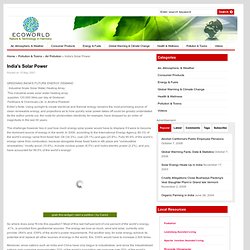 Editor's Note: Using sunlight to create electrical and thermal energy remains the most promising source of clean renewable energy, and projections as to how quickly solar power takes off could be grossly understated. As the author points out, the costs for photovoltaic electricity, for example, have dropped by an order of magnitude in the last 30 years. The challenge however lies in just how much energy solar power would have to displace if it were to become the dominant source of energy in the world.
Clean energy supply chain in Karnataka villages, India - REEEP - The Renewable Energy and Energy Efficiency Partnership. Background The urban and rural poor in India are willing to pay for renewables-based and energy-efficient items such as solar lighting system and lanterns, pressure cookers, water filters, improved stoves, biogas and household hydro.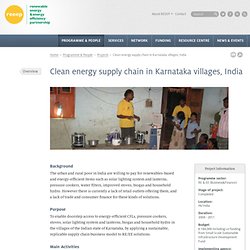 However there is currently a lack of retail outlets offering them, and a lack of trade and consumer finance for these kinds of solutions. Purpose To enable doorstep access to energy-efficient CFLs, pressure cookers, stoves, solar lighting system and lanterns, biogas and household hydro in the villages of the Indian state of Karnataka, by applying a sustainable, replicable supply chain business model to RE/EE solutions.
100 % renewable electricity.
---