Strategy
For energy-starved India, solar has huge potential
By K Subramanya Some people paint a completely wrong picture of the relevance, requirement and importance of solar energy for India. They usually focus on the cost and affordability in a short-sighted way and ignore the larger issues of energy availability, the country's energy security and climate change. It is important to place solar energy in the overall context of current energy basket of India — India desperately needs to tap renewable sources of energy given that 64.6 per cent of her power generation comes from fossil fuels including 53.3 per cent from coal and 10.5 per cent from gas, which, even high school students know are not going to last forever. India has a huge advantage in terms of geography.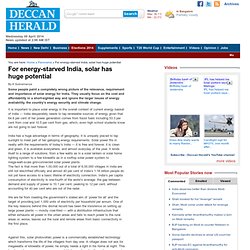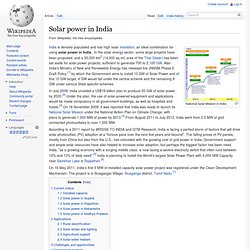 National Solar Mission in India India is densely populated and has high solar insolation, an ideal combination for using solar power in India. India is already a leader in wind power generation.
Solar power in India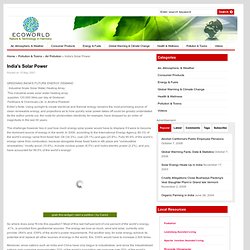 India's Solar Power
Posted on 15 May 2007. Editor's Note: Using sunlight to create electrical and thermal energy remains the most promising source of clean renewable energy, and projections as to how quickly solar power takes off could be grossly understated. As the author points out, the costs for photovoltaic electricity, for example, have dropped by an order of magnitude in the last 30 years. The challenge however lies in just how much energy solar power would have to displace if it were to become the dominant source of energy in the world.
Clean energy supply chain in Karnataka villages, India - REEEP - The Renewable Energy and Energy Efficiency Partnership
Background The urban and rural poor in India are willing to pay for renewables-based and energy-efficient items such as solar lighting system and lanterns, pressure cookers, water filters, improved stoves, biogas and household hydro. However there is currently a lack of retail outlets offering them, and a lack of trade and consumer finance for these kinds of solutions. Purpose To enable doorstep access to energy-efficient CFLs, pressure cookers, stoves, solar lighting system and lanterns, biogas and household hydro in the villages of the Indian state of Karnataka, by applying a sustainable, replicable supply chain business model to RE/EE solutions.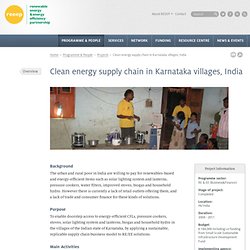 100 % renewable electricity - PwC UK
http://www.pwc.co.uk/pdf/100_percent_renewable_electricity.pdf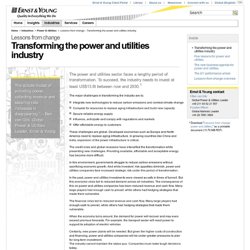 Lessons from change - Transforming the power and utilities industry
The simple model of providing power, collecting revenue and securing rate increases is disappearing." – Ben van Gils, Global Power & Utilities Leader, EY The power and utilities sector faces a lengthy period of transformation. To succeed, the industry needs to invest at least US$13.6t between now and 2030.1 The major challenges in transforming the industry are to: Integrate new technologies to reduce carbon emissions and combat climate changeCompete for resources to replace aging infrastructure and build new capacitySecure reliable energy supplyInfluence, anticipate and comply with regulations and marketsOffer affordable energy to customers These challenges are global.