Strategy
For energy-starved India, solar has huge potential
By K Subramanya Some people paint a completely wrong picture of the relevance, requirement and importance of solar energy for India. They usually focus on the cost and affordability in a short-sighted way and ignore the larger issues of energy availability, the country's energy security and climate change. It is important to place solar energy in the overall context of current energy basket of India — India desperately needs to tap renewable sources of energy given that 64.6 per cent of her power generation comes from fossil fuels including 53.3 per cent from coal and 10.5 per cent from gas, which, even high school students know are not going to last forever. India has a huge advantage in terms of geography.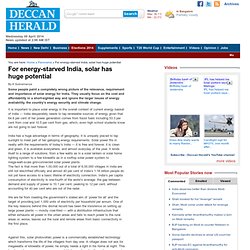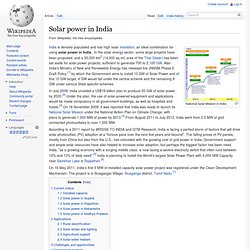 National Solar Mission in India India is densely populated and has high solar insolation , an ideal combination for using solar power in India . India is already a leader in wind power generation .
Solar power in India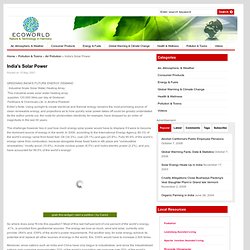 India's Solar Power
Posted on 15 May 2007.
Clean energy supply chain in Karnataka villages, India - REEEP - The Renewable Energy and Energy Efficiency Partnership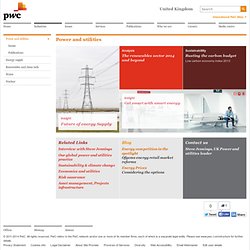 100 % renewable electricity - PwC UK
100% Renewable Electricity - A roadmap to 2050 for Europe and North Africa, a report prepared by the European and international climate experts at PricewaterhouseCoopers LLP, the European Climate Forum, the Potsdam Institute for Climate Impact Research and the International Institute for Applied System Analysis, examines the potential for powering Europe and North Africa with renewable electricity exclusively by 2050 and the opportunities this transformation to the power sector presents. The study provides policy makers and business leaders with clear direction and a step wise approach on how to achieve the 2050 vision. The study looks at the market in terms of financial, infrastructure and government policy milestones for policy makers and business to answer the "what if" question.
http://www.pwc.co.uk/pdf/100_percent_renewable_electricity.pdf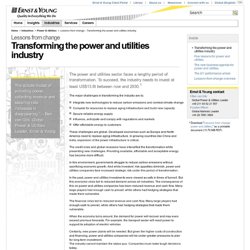 Lessons from change - Transforming the power and utilities industry
The simple model of providing power, collecting revenue and securing rate increases is disappearing." – Ben van Gils, Global Power & Utilities Leader , Ernst & Young The power and utilities sector faces a lengthy period of transformation. To succeed, the industry needs to invest at least US$13.6t between now and 2030. 1 The major challenges in transforming the industry are to: Integrate new technologies to reduce carbon emissions and combat climate change Compete for resources to replace aging infrastructure and build new capacity Secure reliable energy supply Influence, anticipate and comply with regulations and markets Offer affordable energy to customers These challenges are global.
http://www.ey.com/Publication/vwLUAssets/Industry_Utilities_A_new_era_for_renewables_in_Europe/$FILE/Industry_Utilities_A_new_era_for_renewables_in_Europe.pdf