Asian food
Hibachi Style Fried Rice Recipe - Food.com - 247155. Japanese Steakhouse White Sauce (Yum Yum Sauce, Shrimp Sauce, Sakura Sauce) Recipe. How to Make Japanese Steakhouse White Sauce - Shrimp Sauce - Yum Yum Sauce - Sakura Sauce - You Finally Found The Recipe!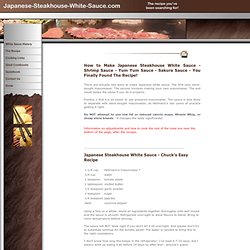 There are actually two ways to make Japanese white sauce. The first uses store-bought mayonnaise. The second involves making your own mayonnaise. Sesame Seared Tuna Recipe. Easy Asian Soup Recipes: How To Make Clear Japanese Soup. In my explorations of other cuisines, I have fallen in love with many of the Asian soups.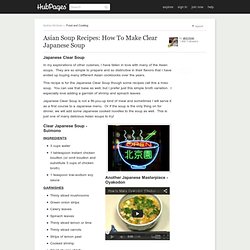 They are so simple to prepare and so distinctive in their flavors that I have ended up buying many different Asian cookbooks over the years. This recipe is for the Japanese Clear Soup though some recipes call this a miso soup. You can use that base as well, but I prefer just this simple broth variation.
---