Fun
Petit recueil de 18 moisissures argumentatives à utiliser sans modération lors des concours de mauvaise foi, par Richard Monvoisin, vice-champion de mauvaise foi 2008, et Stanislas Antczak, champion 2007. (Certains sophismes sont davantage détaillés dans l'article Logique – Le monde de sophisme). Nous avons découpé ces moisissures argumentatives en trois grandes catégories : les erreurs logiques, les attaques, et les travestissements. A. Erreurs logiques 1.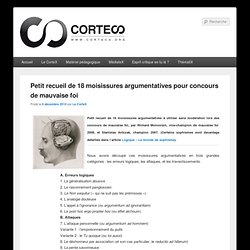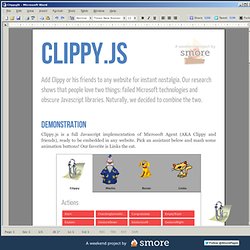 Clippy.js is a full Javascript implementation of Microsoft Agent (AKA Clippy and friends), ready to be embedded in any website. Pick an assistant below and mash some animation buttons! Our favorite is Links the cat. During lunch a few weeks ago we thought it would be cool to have a fully functional Clippy that can be embedded in any website. We fiddled around with it and we had an unexpected amount of fun laughing at Clippy and his antics. We started thinking about the developers' state of mind when they created Clippy.
Gag + Google = Gaggle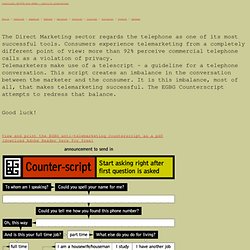 The Direct Marketing sector regards the telephone as one of its most successful tools. Consumers experience telemarketing from a completely different point of view: more than 92% perceive commercial telephone calls as a violation of privacy. Telemarketers make use of a telescript - a guideline for a telephone conversation. This script creates an imbalance in the conversation between the marketer and the consumer.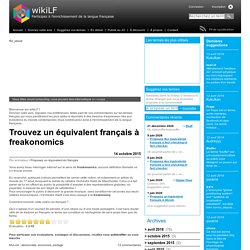 La télévision est en passe de connaître une révolution historique. Son mode de consultation, notamment, est affecté par de grands changements. Traditionnellement cantonné à une attitude passive, le téléspectateur se voit aujourd'hui investi d'un nouveau rôle actif, dit social, grâce à la «social TV».
The first-ever YouTube Music Awards are live this Sunday evening at 6pmET and to celebrate, we did a little digging into the data behind some of the 2013 nominees, all of which were selected based on a series of viewership, subscriber, and/or engagement metrics. (To get all the details on the nominees read this or check out the YouTube Spotlight channel where you can also vote for the winners.) Video of the year is one of the categories drawing the most interest, and that's not really a surprise when you consider the 1.9 billion views these videos currently have combined. That's an average of over half a million views for every second of video. Here is daily viewership data (though, please note that we have cut off the initial "Gentleman" spike, which at a record 38 million views in a single day made this chart hilariously unreadable):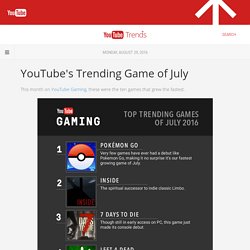 Most Upvoted 1661 votes A Little Snow Won't Stop Me 1311 votes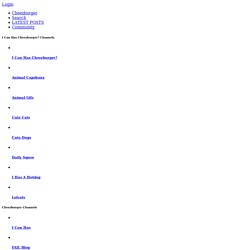 MANswers | The Ultimate Male Survival Guide | Full Episodes | Spike