Tools
CVE security vulnerability database. Security vulnerabilities, exploits, references and more. Maven Repository Manager Feature Matrix - Maven User. Apache Subversion. TortoiseSVN. Your Dashboard - GitHub. Premières impressions de EGit - Jmini Dev. Livrée avec Eclipse Indigo, la version 1.0 de EGit permet une intégration graphique de git au sein d'Eclipse.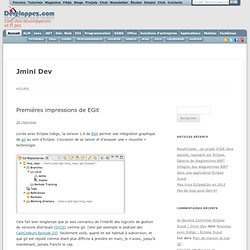 L'occasion de se lancer et d'essayer une « nouvelle » technologie. Cela fait bien longtemps que je suis convaincu de l'intérêt des logiciels de gestion de versions distribués (DVCS) comme git. [Voir par exemple le podcast des CastCodeurs Episode 23]. Seulement voilà, quand on est habitué à subversion, et que git est réputé comme étant plus difficile à prendre en main, je n'avais, jusqu'à maintenant, jamais franchi le cap. Maven - Welcome to Apache Maven. 5 things you didn't know about ... Apache Maven. Maven is an excellent build tool for Java™ developers, and you can use it to manage the life cycle of your projects as well.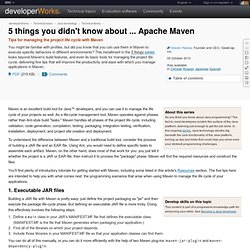 As a life-cycle management tool, Maven operates against phases rather than Ant-style build "tasks. " Maven handles all phases of the project life cycle, including validation, code generation, compilation, testing, packaging, integration testing, verification, installation, deployment, and project site creation and deployment. To understand the difference between Maven and a traditional build tool, consider the process of building a JAR file and an EAR file. Using Ant, you would need to define specific tasks to assemble each artifact. Lite. JFrog - Home of Artifactory Binary Repository Manager. Lorempixel - placeholder images for every case. Lorempixum, génération aléatoire d'images| Webmaster – Ressources et outils gratuits pour votre site internet – Free Tools| Free Tools, Le meilleur des outils gratuits pour webmaster.
---