Tools
www.cvedetails.com provides an easy to use web interface to CVE vulnerability data. You can browse for vendors, products and versions and view cve entries, vulnerabilities, related to them. You can view statistics about vendors, products and versions of products.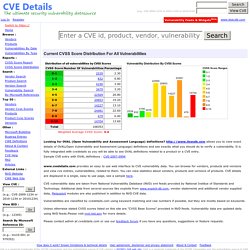 Maven Repository Manager Feature Matrix - Maven User
"Enterprise-class centralized version control for the masses" Welcome to subversion.apache.org, the online home of the Apache Subversion™ software project. Subversion is an open source version control system.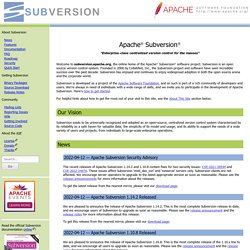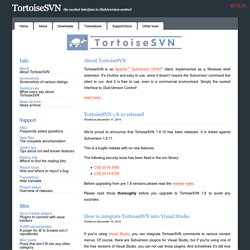 Windows 8 has a new feature where the Aero colors can be automatically adjusted according to the selected wallpaper. This seems to be a nice feature, and there's even a tool available that offers that feature for Windows 7: Aura. But there are some things about Aura that bother me, so I hacked together my own tool which offers that feature. Unlike Aura, AAClr is written in plain C++ and doesn't use the .NET Framework. For tools that are supposed to be started automatically on logon, this ensures that the whole startup time doesn't increase by several seconds.
Great collaboration starts with communication. Review changes, comment on lines of code, report issues, and plan the future of your project with discussion tools. Friction-less development across teams. Work with project collaborators or teams of people in organization accounts to communicate with ease. World's largest open source community.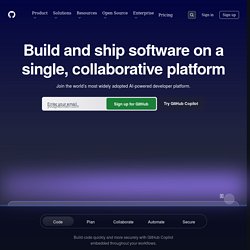 Premières impressions de EGit - Jmini Dev
Livrée avec Eclipse Indigo, la version 1.0 de EGit permet une intégration graphique de git au sein d'Eclipse. L'occasion de se lancer et d'essayer une « nouvelle » technologie. Cela fait bien longtemps que je suis convaincu de l'intérêt des logiciels de gestion de versions distribués (DVCS) comme git. [Voir par exemple le podcast des CastCodeurs Episode 23]. Seulement voilà, quand on est habitué à subversion, et que git est réputé comme étant plus difficile à prendre en main, je n'avais, jusqu'à maintenant, jamais franchi le cap.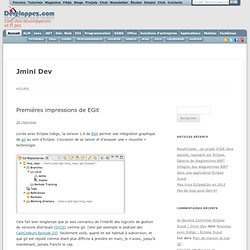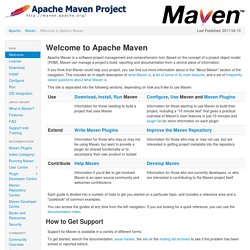 Apache Maven is a software project management and comprehension tool. Based on the concept of a project object model (POM), Maven can manage a project's build, reporting and documentation from a central piece of information. If you think that Maven could help your project, you can find out more information about in the "About Maven" section of the navigation. This includes an in-depth description of what Maven is, a list of some of its main features, and a set of frequently asked questions about what Maven is.
5 things you didn't know about ... Apache Maven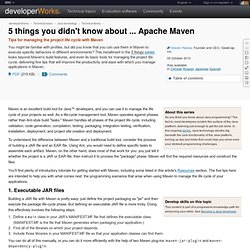 Maven is an excellent build tool for Java™ developers, and you can use it to manage the life cycle of your projects as well. As a life-cycle management tool, Maven operates against phases rather than Ant-style build "tasks." Maven handles all phases of the project life cycle, including validation, code generation, compilation, testing, packaging, integration testing, verification, installation, deployment, and project site creation and deployment. To understand the difference between Maven and a traditional build tool, consider the process of building a JAR file and an EAR file. Using Ant, you would need to define specific tasks to assemble each artifact.
Lite
JFrog has changed the way developers store and manage binaries and control the full release flow of their software. As the creator of Artifactory, JFrog is the first company to provide software developers with a Binary Repository Management solution, and has established itself as a technology leader in the software industry. Bintray, a community SaaS social based platform to distribute and serve binaries, is the company's next step forward in setting the standard for solving developer pains. JFrog remedies the issues faced by software developers and DevOps teams, allowing them to manage, host and control the flow of binary artifacts from development to production.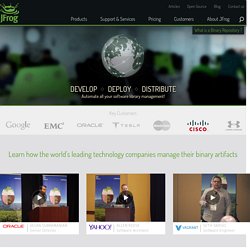 JFrog - Home of Artifactory Binary Repository Manager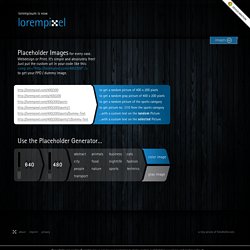 Total Images delivered today:732.707Total Images since the beginning of time:1.034.305.283 Placeholder Images for every case. Webdesign or Print. It's simple and absolutely free!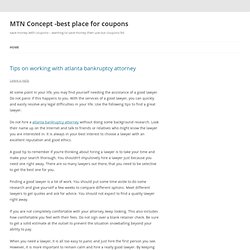 Great CNA Tips That Can Work For You! By admin on Sunday, January 12th, 2014 | No Comments Are you currently in college? If so, then you are one of the many millions of people trying to find your identity in this world. College can be one of the most stressful times of your life because you are facing a lot of uncertainty. Read the below article for some great advice that will help you learn how much does a cna make?.