Javascript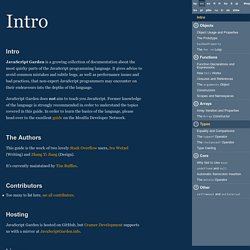 Function Declarations and Expressions Functions in JavaScript are first class objects. That means they can be passed around like any other value. One common use of this feature is to pass an anonymous function as a callback to another, possibly an asynchronous function.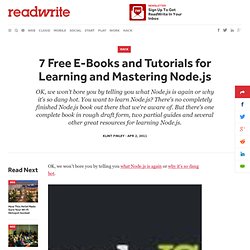 OK, we won't bore you by telling you what Node.js is again or why it's so dang hot.
6 Free E-Books and Tutorials for Learning and Mastering Node.js
Felix's Node.js Convincing the boss guide
« Home / All Guides Now that you're all hyped up about using node.js, it's time to convince your boss. Well, maybe. I have had the pleasure of consulting for different businesses on whether node.js is the right technology, and sometimes the answer is simply no. So this guide is my opinionated collection of advice for those of you that want to explore whether node.js makes sense for their business, and if so, how to convince the management.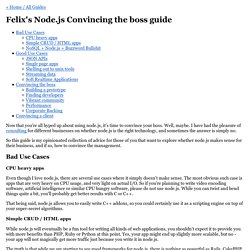 Parmi les nombreuses technologies qui me passionnent actuellement, Node.js tient une place importante. Et pour plusieurs raisons : développement Javascript côté serveur, gestion des entrées/sorties de manières non bloquantes, communauté très présente avec de nombreux modules comme Socket.IO et bien d'autres choses encore. C'est pour toutes ces raisons, et aussi parce que la nouvelle version 0.4.0 vient de sortir, que Web Tambouille vous propose une série de 4 billets consacrée exclusivement à votre futur serveur préféré : Node !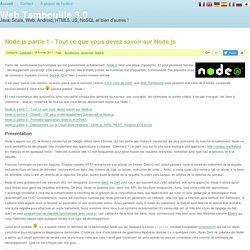 Introduction à node.js - Damien MATHIEU
object {} { members } members pair pair , members pair
JSON