Hudson/jenkins
This post is a revision of the original post , published last year and it covered Sonar version 2.8. Many months has passed and during this period the Sonar Team released four(4) new versions of the ultimate quality platform. The latest version ( 2.12 ) now includes JaCoCo in its core implementation and the existing plugin is now deprecated.
5+1 Sonar Plugins you must not miss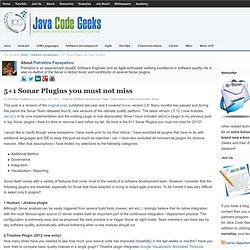 MilamberSpace » Blog Archive » Intégration d'un test JMeter dans Hudson avec le plugin Hudson Performance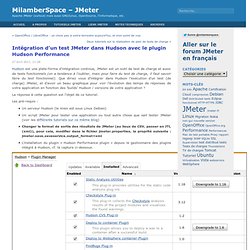 Hudson est une plate-forme d'intégration continue, JMeter est un outil de test de charge et aussi de tests fonctionnels (on a tendance à l'oublier, mais pour faire du test de charge, il faut savoir faire du test fonctionnel) . Que diriez vous d'intégrer dans Hudson l'exécution d'un test (de charge) JMeter, et d'avoir un beau graphique pour voir l'évolution des temps de réponses de votre application en fonction des 'builds' Hudson / versions de votre application ? La réponse à cette question est l'objet de ce tutoriel.
Plugin Information This plug-in generates reports static code violation detectors such as checkstyle, pmd, cpd, findbugs, fxcop, stylecop and simian. Note: Since version 0.6.0 the violations plugin works with the hudson maven2 project type..
Violations