HTML
<!--[if lt IE 9]> <script src="dist/html5shiv.js"></script> <![endif]--> Dual licensed under the MIT or GPL Version 2 licenses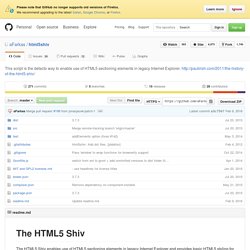 A collection of best front-end frameworks with comparison | By usabli.ca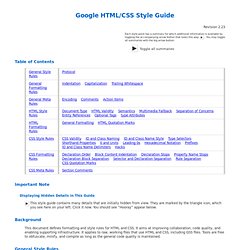 Strictly keep structure (markup), presentation (styling), and behavior (scripting) apart, and try to keep the interaction between the three to an absolute minimum. That is, make sure documents and templates contain only HTML and HTML that is solely serving structural purposes. Move everything presentational into style sheets, and everything behavioral into scripts.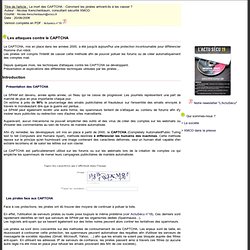 Le CAPTCHA, mis en place dans les années 2000, a été jusqu'à aujourd'hui une protection incontournable pour différencier l'homme d'un robot. Les pirates ont compris l'intérêt de casser cette méthode afin de pouvoir polluer les forums ou de créer automatiquement des comptes mail. Depuis quelques mois, les techniques d'attaques contre les CAPTCHA se développent. Présentation et explications des différentes techniques utilisées par les pirates... Présentation des CAPTCHA Le SPAM est devenu, année après année, un fléau qui ne cesse de progresser.
HTML5 and the web of tomorrow – live from Web2Day in Nantes, France
I am currently here in Nantes, France at the Web2Day conference giving a talk on the topic of HTML5 and how it affects the audience (consisting of business people, startups, managers and a few developers. The slides of the talk are available Slideshare : The talk was streamed live via UStream and the recording is available (as a – gasp – Flash embed – we know, so no need for comments like "isn't it ironic that an HTML5 talk…" unless you want to tell UStream that): Here are a few of the links I talk about to try out for yourself: Not invented here – probably the biggest threat to innovation Nike better world and Nissan Leaf – great example of CSS3 and HTML5 use in beautifully designed web sites. 20 Things I learned – a book by Google on the web and HTML5 HTML5 Wow!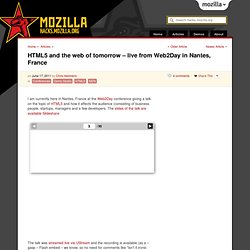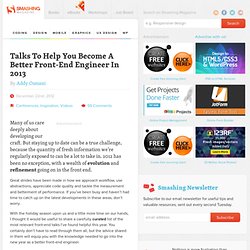 Many of us care deeply about developing our craft. But staying up to date can be a true challenge, because the quantity of fresh information we're regularly exposed to can be a lot to take in. 2012 has been no exception, with a wealth of evolution and refinement going on in the front end. Great strides have been made in how we approach workflow, use abstractions, appreciate code quality and tackle the measurement and betterment of performance. If you've been busy and haven't had time to catch up on the latest developments in these areas, don't worry. With the holiday season upon us and a little more time on our hands, I thought it would be useful to share a carefully curated list of the most relevant front-end talks I've found helpful this year. You certainly don't have to read through them all, but the advice shared in them will equip you with the knowledge needed to go into the new year as a better front-end engineer.