Bike accessaries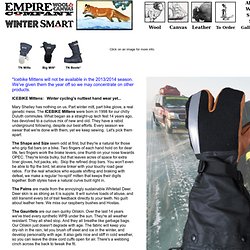 ICEBIKE Mittens: Winter cycling's nuttiest hand wear yet... Mary Shelley has nothing on us. Part winter mitt, part bike glove, a real genetic mess. The ICEBIKE Mittens were born in 1998 for our chilly Duluth commutes.
Empire Wool and Canvas Company. True North Mittens
Bike Bag Shop | Bicycle Panniers, Racks and Bags
Paul Component Engineering - Gino Light Mount
Largest selection of AAA, AA, C, D, 9V nimh Rechargeable Batteries, Chargers, Sanyo, Eneloop, Maha, Imedion, Powerex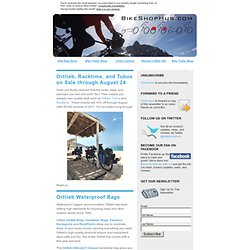 Newsletter - The Bike Shop Hub
Ortlieb, Racktime, and Tubus on Sale through August 24 Have you finally realized that the racks, bags, and panniers you own are junk? No?
PLANET BIKE - Bicycle Accessories: Home
++ mountain bike components, pedals, wheels, stems, tools :: crankbrothers.com ++
Racktime Front and Rear Racks Racktime is a German company that makes front and rear bike racks or carriers that are versatile, sturdy, and sleek. Tubus , which is Racktime's parent company, has a great line-up of high-strength steel racks. Racktime racks are made only from aluminum, and although aluminum is not quite as strong as steel, it is much easier to work with. Therefore, Racktime racks are very sturdy and more versatile than steel racks like Tubus, due to the manageability of aluminum.
Racktime Front and Rear Racks | Bike Bag Shop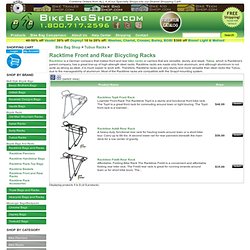 King Cage - Bicycle waterbottle cages handmade in Durango, CO
ERGON BIKE ERGONOMICS
Racktime Front and Rear Racks | Bike Bag Shop