Learning Management Systems
E-Learning Advice, Training Consultancy and LMS / VLE Solutions - e-learningcentre.co.uk. List of Learning Management Systems, LMS. E-Learning A Learning Management System (LMS) is software that automates the administrative tasks of training, such as registering users, tracking courses in a catalog, recording data, charting a user's progress toward certification, and providing reports to managers.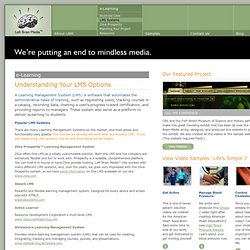 These system also serve as a platform to deliver eLearning to students. Popular LMS Systems There are many Learning Management Systems on the market, and their prices and functionality vary greatly. Barry Sampson | Open Source LMS – 10 Alternatives to Moodle. Since the economic downturn began I've noticed much more interest in open source Learning Management Systems (LMS), and it's no surprise that when people ask what the options are, the answer is usually Moodle.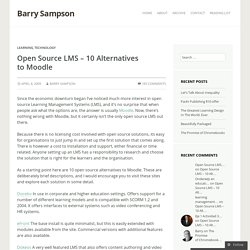 Now, there's nothing wrong with Moodle, but it certainly isn't the only open source LMS out there. Because there is no licensing cost involved with open source solutions, its easy for organisations to just jump in and set up the first solution that comes along. There is however a cost to installation and support, either financial or time related. Anyone setting up an LMS has a responsibility to research and choose the solution that is right for the learners and the organisation. Online Collaborative Course Authoring. UdutuTeach & Udutu Learn: Facebook Plugins UdutuTeach allows you to import courses from myUdutu, manage which people can take your courses, and track the learners' progress.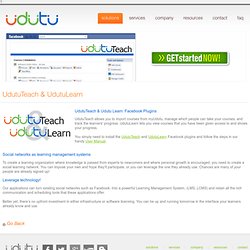 UdutuLearn lets you view courses that you have been given access to and shows your progress. You simply need to install the UdutuTeach and UdutuLearn Facebook plugins and follow the steps in our handy User Manual. Social networks as learning management systems. GetStarted | Mindflash Training Management System.
---