Academics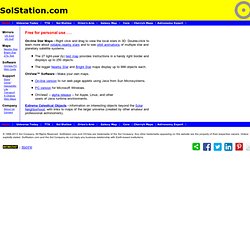 SolStation.com
Free for personal use . . . On-line Star Maps - Right click and drag to view the local stars in 3D. Double-click to learn more about notable nearby stars and to see orbit animations of multiple star and planetary satellite systems. The 27 light-year (ly) test map provides instructions in a handy right border and displays up to 250 objects. The bigger Nearby Star and Bright Star maps display up to 999 objects each. ChView™ Software - Make your own maps.
for the Humanities and Sciences - Philosophy & Religion - Search Results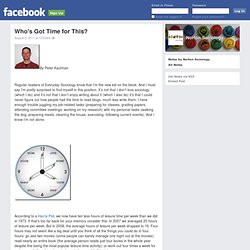 Who's Got Time for This?
By Peter Kaufman Regular readers of Everyday Sociology know that I'm the new kid on the block. And I must say I'm pretty surprised to find myself in this position. It's not that I don't love sociology (which I do) and it's not that I don't enjoy writing about it (which I also do) it's that I could never figure out how people had the time to read blogs, much less write them. I have enough trouble juggling my job-related tasks (preparing for classes, grading papers, attending committee meetings, working on my research) with my personal tasks (walking the dog, preparing meals, cleaning the house, exercising, following current events).
Learning Management Systems
POSTCOLONIAL NETWORKS | Home
Congratulations to James Elisha Taneti, author of Caste, Gender, and Christianity in Colonial India: Telugu Women in Mission, which the International Bulletin of Missionary Research has named one of "fifteen books published in 2013 for special recognition of their contribution to mission studies." Caste, Gender, and Christianity in Colonial India was published in the Postcolonialism and Religions series, hosted by Postcolonial Networks and Palgrave Macmillan and edited by Jayakiran Sebastian and Joseph F. Duggan.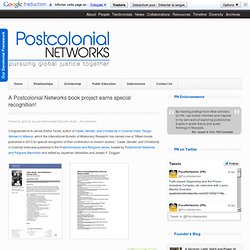 About UsStudent LifeDenver and ColoradoDirectionsContact UsAcademicsConcentrationsCourse DescriptionsProgram RequirementsCertificate ProgramFacultyCalendarCourse SchedulesProspective StudentsAdmission RequirementsFinancesInternational StudentsApply for AdmissionApplicant InformationRequest InformationHousingCurrent StudentsDU WebCentralMy.IliffFormsHandbooksStudent CouncilResourcesDirectoryOnline Classroom ToolsConference ReimbursementsDissertationsLibrariesDU Campus MapsIliff Campus MapTeaching ToolsFaculty ResourcesAlumni and FriendsAlumni UpdateAlumni ConnectionAlumni Career ServicesGifting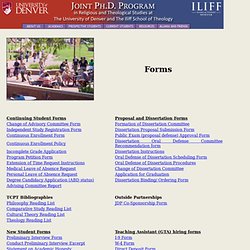 Iliff Joint PhD Program
Blackboard Academic Suite
Qualitative Research Methods