Longtail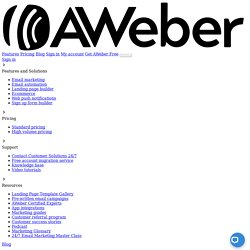 Sign In AWeber Email Marketing Software Simpler, Faster Email Marketing Spend less time marketing and more time growing your business with automated follow ups and quick, easy design tools - plus so much more. With the best delivery in the business, AWeber gets your email newsletter where it needs to go.
Forget squeezing millions from a few megahits at the top of the charts. The future of entertainment is in the millions of niche markets at the shallow end of the bitstream. By Chris AndersonPage 1 of 5 next » Chris is expanding this article into a book, due out in May 2006. Follow his continuing coverage of the subject on The Long Tail blog.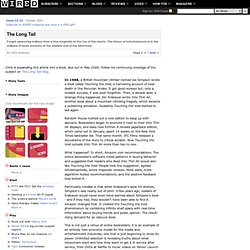 Wired 12.10: The Long Tail
An American blogger mother got a lot of attention for giving her son an iphone with a "contract" and a bunch of conditions. http://tinyurl.com/az74og4 It really irked me… I'm lucky. I too have a 13 year old and also gave him an iphone. I told him to keep it safe, charged and if he's mugged hand it over.