Work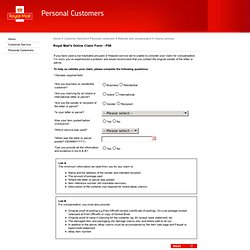 List A The minimum information we need from you for any claim is: Name and full address of the sender and intended recipient The amount of postage paid Where the letter or parcel was posted Item reference number (All trackable services) Description of the contents (not required for Inland delay claims) List B For compensation, you must also provide: Original proof of posting e.g Post Office® receipt (certificate of posting), On-Line postage receipt (stamped at Post Office®) or copy of Docket Book Original proof of value if claiming for the contents, eg. till receipt, bank statement, etc The damaged item and packaging (for damage claims only and where safe to do so) In addition to the above, eBay claims must be accompanied by the item sale page and Paypal or bank/credit statement eBay item number I'm sorry we can only accept claims for International items from the sender.
Royal Mail Online Claim Form
Bioworld Merchandising | Nintendo Merchandise
Wholesale Concert T-shirts and band merchandise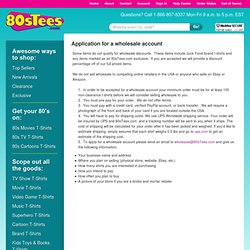 Some items do not qualify for wholesale discounts. These items include Junk Food brand t-shirts and any items marked as an 80sTees.com exclusive. If you are accepted we will provide a discount percentage off of our full priced items. We do not sell wholesale to competing online retailers in the USA or anyone who sells on Ebay or Amazon. In order to be accepted for a wholesale account your minimum order must be for at least 100 non-clearance t-shirts before we will consider selling wholesale to you. You must pre-pay for your order.
Apply for a wholesale account
Hybris Online | T-shirt Wholesale
Hybris Online is a wholesaler. In this webshop we only sell to resellers and corporate customers.Are you a private customer and looking for cool and funny t-shirts, we refer you to the Shirtstore. We hold exclusive licenses from all major studios and rights holders. All design, production and distribution are handled from our headquarters in Trelleborg, Sweden. All items are official and authorized to respective holders. To be able to buy our products you must apply for a customer account, your request is handled manually and when you receive login information is your account open and you are welcome to order.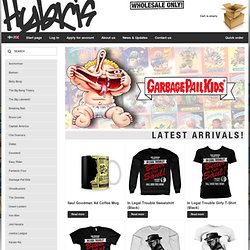 P58_Inland_April13_v2%20_0
5900702_460s
5398730_460s_v1