Work
Royal Mail Online Claim Form.
Tweet
Bioworld Merchandising | Nintendo Merchandise. Wholesale Concert T-shirts and band merchandise. Apply for a wholesale account. Some items do not qualify for wholesale discounts.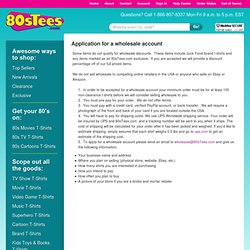 These items include Junk Food brand t-shirts and any items marked as an 80sTees.com exclusive. If you are accepted we will provide a discount percentage off of our full priced items. We do not sell wholesale to competing online retailers in the USA or anyone who sells on Ebay or Amazon. In order to be accepted for a wholesale account your minimum order must be for at least 100 non-clearance t-shirts before we will consider selling wholesale to you. You must pre-pay for your order. Hybris Online | T-shirt Wholesale.
Eco stuff
P58_Inland_April13_v2%20_0. Blogg material. 5900702_460s. 5398730_460s_v1. Design tools. Ideas. Flickr Related Tag Browser - StumbleUpon.
---