CV
COVER LETTER TEMPLATE | COVER LETTER SAMPLE | WhatIsPedia. Dear , I am writing to express sincere interest in your current opening for .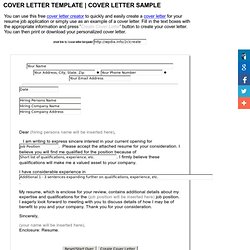 Please accept the attached resume for your consideration. Scale LANGUAGE Levels. 5 openingszinnen voor een geslaagde motivatiebrief. Zodra je een job gezocht hebt, verschijnt hier je laatste zoekopdracht.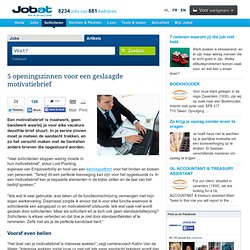 Een motivatiebrief is maatwerk, geen bandwerk waarbij je voor elke vacature dezelfde brief stuurt. In je eerste zinnen moet je meteen de aandacht trekken, en zo het verschil maken met de tientallen andere brieven die opgestuurd worden. 3 Ways to Emphasize Your ROI on Your Resume. Creating your resume, but stumped for ideas beyond your job titles, places of employment, tasks, and education?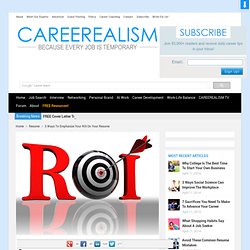 Getting employers to pick up the phone requires a much stronger brand message! Related: 3 Ways To Quantify Your Experience With Numbers If you haven't focused on your ROI – the benefit companies get when hiring you – your search can go on indefinitely. You might believe that recruiters or HR managers will "get" this message from reading about your past jobs or span of authority – but guess what? 2 Easy Ways To Create An Impressive Timeline For Free. If you want a quick and easy way to create a timeline, there are many free online services that make it a snap.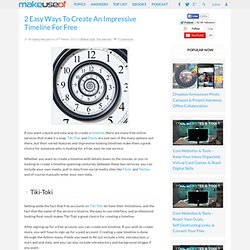 Tiki-Toki and Dipity are just two of the many options out there, but their varied features and impressive looking timelines make them a great choice for someone who is looking for a free, easy-to-use service. Whether you want to create a timeline with details down to the minute, or you're looking to create a timeline spanning centuries, between these two services, you can include your own media, pull in data from social media sites like Flickr and Twitter, and of course manually enter your own data. Beautiful web-based timeline software.
Business Cards | Create your customised business card online. Handing out a business card is often the first impression people take of your business, so you need to get it right.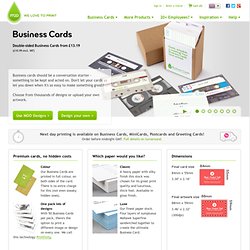 Using your own photography or artwork to create custom business cards can help, and MOO makes the process easy with our simple online tools and templates. Our Business Cards are double sided, printed in full colour at no extra cost, and available in short print runs. There's a choice of premium paper for Business Cards too: As well as sustainably sourced Gloss, you can choose 100% recycled with a light satin finish or sustainably sourced, with a smooth matte laminate. No design or images of your own? No problem, choose from a selection of free business card designs created by our professional team and personalise them with your own details.
Colliope - creatie cv en motiveringsbrief. CV - curriculum vitae. VDAB: Info voor het perfecte cv. Cv is de afkorting van curriculum vitae, wat zoveel betekent als levensloop.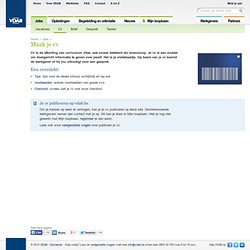 Je cv is een middel om doelgericht informatie te geven over jezelf. Het is je visitekaartje. Download CVITAE. Télécharger CVitae Version 5.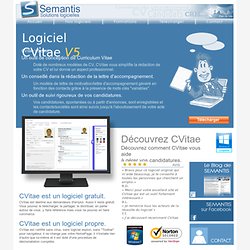 Fichier d'autoinstallation de 7 Mo CVitae V5 c'est : Un outil de conception de Curriculum Vitae. Hoe maak je een pocket-cv? De nieuwste trend in cv-land?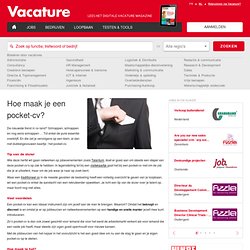 Schrappen, schrappen en nog eens schrappen … Tot enkel de pure essentie overblijft. En die zet je vervolgens op een klein, al dan niet dubbelgevouwen kaartje : het pocket-cv. PocketMod: The Free Recyclable Personal Organizer. ONLINE CV. Publication Network - Youblisher.com - turn pages / flippable pdfs - pdf's zum umblättern. PDF to Flash page flip - flipping book software.
When we created FlipSnack a while ago, we had no idea it would become such a popular web tool for education.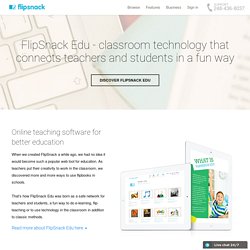 As teachers put their creativity to work in the classroom, we discovered more and more ways to use flipping books in schools. That's how FlipSnack Edu was born as a safe network for teachers and students, a fun way to do elearning, flip teaching or to use technology in the classroom in addition to classic methods. Turn your LinkedIn Profile into a Resume | Resume Builder.
Mijn loopbaan. The Basics of Cover Letter Writing - Advice. By Richard M.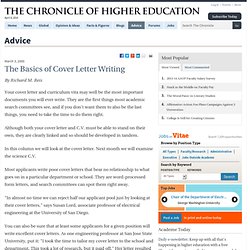 Reis Your cover letter and curriculum vita may well be the most important documents you will ever write. They are the first things most academic search committees see, and if you don't want them to also be the last things, you need to take the time to do them right. Although both your cover letter and C.V. must be able to stand on their own, they are clearly linked and so should be developed in tandem. In this column we will look at the cover letter. Wordle - Beautiful Word Clouds. Text 2 Mind Map - Simple mind mapping online. TAGXEDO - Creator. Tagul - Gorgeous tag clouds.
---