Lifehacker_Tools
Visuwords™ online graphical dictionary — Look up words to find their meanings and associations with other words and concepts. Produce diagrams reminiscent of a neural net. Learn how words associate. Enter words into the search box to look them up or double-click a node to expand the tree. Click and drag the background to pan around and use the mouse wheel to zoom. Hover over nodes to see the definition and click and drag individual nodes to move them around to help clarify connections.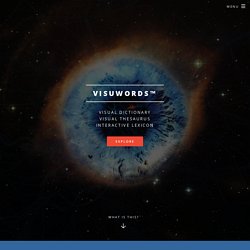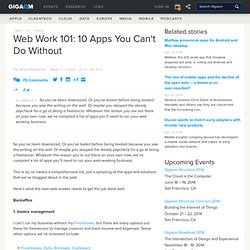 So you've been downsized. Or you've bailed before being booted because you saw the writing on the wall. Or maybe you skipped the steady paycheck for a go at being a freelancer. Whatever the reason you're out there on your own now, we've compiled a list of apps you'll need to run your web-working business. This is by no means a comprehensive list, just a sampling of the apps and solutions that we've blogged about in the past.
Archive Web Work 101: 10 Apps You Can't Do Without «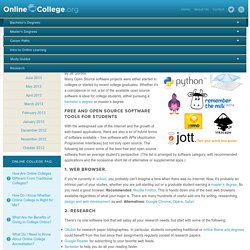 By Jill Gordon Many Open Source software projects were either started in colleges or started by recent college graduates. Whether it's a coincidence or not, a lot of the available open source software is ideal for college students, either pursuing a bachelor's degree or master's degree. Free and Open Source Software Tools for Students
Online flashcards are a great way to study! Cram is your number one online educational resource. We have a wide selection of flashcards for you to study, memorize, test yourself on, and more. Learn a foreign language, practice your multiplication table or prepare for your MCAT by memorizing every bone in the body. Whatever it is you want to learn, Cram has you covered. Flashcards are effective because they are founded on the principles of rote and memorization.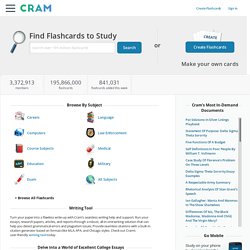 map your digital landscape! fontpro.com Font Pro - is a free fonts database with awesome typeface testing tool. It provides more than 20,000 free fonts and web fonts. Font Pro has made the process of searching fonts, previewing fonts, collecting fonts, to discovering new font combinations super easy and awesome. This tool can save hours of design time every week.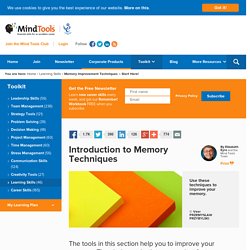 Use your whole mind to remember. © iStockphoto/Yakobchuk The tools in this section help you to improve your memory. They help you both to remember facts accurately and to remember the structure of information.
Posted by nitzan on Thursday, May 10th, 2007 Running a business for yourself means you have to be inventive and always on the lookout for a new and better way to get things done. Innovation junkies, take note: the Internet has a lot to offer. From invoicing to marketing, these are tools that freelancers need to know about. Organization If you're busy with lots of client work, it's easy for things to get out of hand.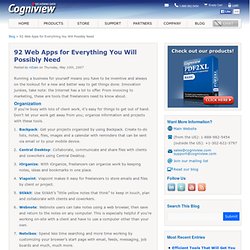 With Zoho, you focus on your business while we take care of the rest with apps that help you get more sales, get paid, support your customers and make your business more productive. "One of our favorite cloud office suites comes from Zoho" "Zoho is the most comprehensive suite of web-based programmes for small businesses..." "I typed this story in Zoho Writer, even though I had never even tried it until this week. So far, so good..."