Anime
Author: Rift Categories: Anime, NewsDate: Apr 18, 2014 18:45 JSTTags: Guns, Hitsugi no Chaika, Image Gallery, Loli, Moe Coffin hoisting loli anime Hitsugi no Chaika has showing off some solid Type A credentials despite its choice of heroine, in the form of plenty of plot-heavy action with almost no service or moe at all – though Chaika's charms fortunately have remained intact. Read the rest of this entry » Author: Rift Categories: Anime, NewsDate: Apr 18, 2014 13:36 JSTTags: Fuun Ishin Dai Shogun, Image Gallery, Kemonomimi, Moe, Oppai Taking full advantage of its Tokugawa setting (although where they got all the garter belts and panties is another matter), foxy anime Fuun Ishin Dai Shogun delivers its rambunctious 2nd episode with the show's sexually rampant cast visiting a whorehouse and encountering a less than tame kitsunemimi girl of stellar loveliness – while leaving viewers further befuddled at the distinct absence of mecha and the rather bizarre setting.
Sankaku Complex - Anime, manga and games, observed from Japan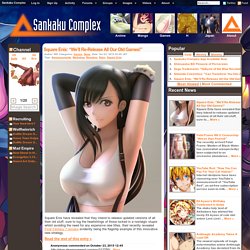 Witch Hunt is a fan translation team dedicated to translating the game/novels produced by the Japanese doujin group 07th Expansion. Head over to the Getting Started page to learn how to buy these games and download our patches. No patch files linked to on this site may be used without a purchased copy of the game! We are definitely not here to help people steal these great games, so all of our patches require a full version of the game to run. Fortunately, 07th Expansion is a doujin group, so their games are fairly cheap. Now that 07th Expansion has created a download version for all of the games we've translated, they're even cheaper and easier to get than ever.
Witch Hunt Translation Project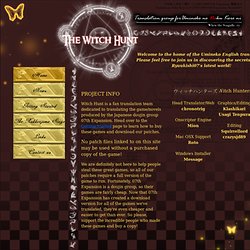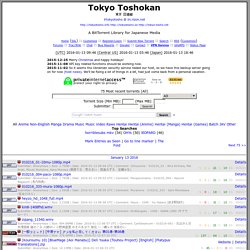 Tokyo Toshokan :: #tokyotosho @ irc.rizon.net :: Torrent Listing
東京 図書館 A BitTorrent Library for Japanese Media (UTC) 2014-04-18 14:19 (Central US) 2014-04-18 09:19 (Japan) 2014-04-18 23:19 2014-04-15 We were affected by the Heartbleed bug. If you registered or changed your password before 2014-04-09, you should visit your profile page and change passwords. You may also update the website field so that it auto fills in the submission form. 2013-11-11 Submitting entries from sites (i.e. ehtracker.org) which used 301 or 302 http redirects was not working, this is now fixed. 2013-10-27 Seems submitting https links was broken, this has been fixed.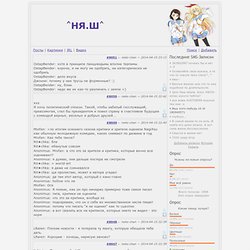 #8007 ← neko-chan — 2014-01-15 04:28 КёАни - это: Захватывающие и непредсказуемые сюжеты Оригинальные сеттинги Бережное обращение с первоисточником Разнообразные и каждый раз новые чардизайны Неожиданные концовки Большой охват самых разных аудиторий Широкий диапазон жанров Оригинальные сценарные ходы Глубокое уважение к зрителю #8006 ← neko-chan — 2014-01-15 04:24
НЯШ
Organize, Discuss, Discover
Index page