Zedmastermind
Finley Buchanan
View my stumble account if you like Good Random Awsomeness
23 Interesting Random Facts. My subscriptions. Equestria Daily. MLP:FiM My Little Pony. Stalwart. Cyclic Universe. Granny Smith papercraft pattern by ~Kna on deviantART. Wall Photos. Custom Pony - Luna by *Modern-Warmare on deviantART. CraftHub - Blogging about Minecraft, every single day.
Trolling
Discoveries. Facebook. Gold and Silver. Drinking games. Music. Wallpapers. My pet to be. Cool stuff to buy. Zombies :P. StumbleUpon.com: Personalized Recommendations to Help You Discover the Best of the Web.
Stumble Upon. Stumble Upon is an application that lets you uncover websites related to your interests, as suggested by people with similar mental illnesses to yourself.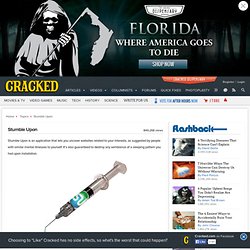 It's also guaranteed to destroy any semblance of a sleeping pattern you had upon installation. So, what is it?
Comic's
Videos. Video games. Internet mem's. Awsome food. New awsome Tec. Emergency and Disaster Information Service. Space.
---