WEB
Comment partager intelligemment des informations
Si vous mentionnez un site internet dans votre blog, généralement vous mettez un lien vers le site en question. Vous pouvez également faire une capture d'écran du site en (j'en parle souvent sur mon blog ici) Mais un lien c'est froid et une image n'est pas forcément très interactive.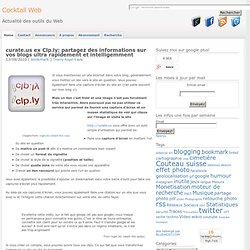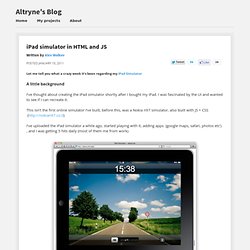 iPad Simulator - alexw.me
Let me tell you what a crazy week it's been regarding my iPad Simulator A little background I've thought about creating the iPad simulator shortly after I bought my iPad. I was fascinated by the UI and wanted to see if I can recreate it. This isn't the first online simulator I've built, before this, was a Nokia n97 simulator, also built with JS + CSS (http://nokian97.co.il)
mixtent.com dit dans son introduction que si Jimmy Hendrix (comme s'il avait connu linkedin) affirme que vous êtes un as de la guitare, il aura plus de poids dans son opinion que votre frère qui vient à peine de prendre sa première leçon de guitare. Dans le monde des affaires c'est un peu pareil. Pour commencer je me suis identifié sur le compte et il y avait une question déjà posée pour l'exercice.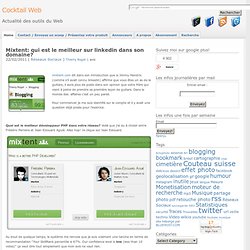 Mixtent qui est le meilleur sur linkedin dans son domaine
Pure CSS Slideshow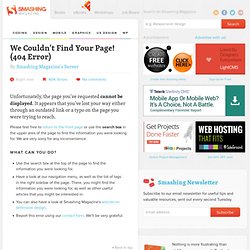 We know how hard it is to find good useful tools that all of your developers and designers out there spend hours searching for. And for that reason, we're regularly collecting useful online web services, tools and resources — little time-savers that can boost every designer's workflow and save time that would otherwise be required for mundane tasks. You might have seen some of these tools in our Twitter stream or on our Facebook page, but certainly not all of them. We've prepared the most useful ones (yet not necessarily the most beautiful ones) in this handy overview for your convenience.
Abusing HTTP Status Codes to Expose Private Information | Mike Cardwell, Online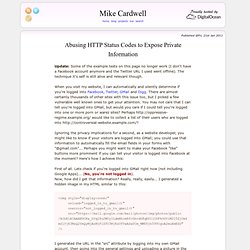 When you visit my website, I can automatically and silently determine if you're logged into Facebook, Twitter, GMail and Digg. There are almost certainly thousands of other sites with this issue too, but I picked a few vulnerable well known ones to get your attention. You may not care that I can tell you're logged into GMail, but would you care if I could tell you're logged into one or more porn or warez sites? Perhaps http://oppressive-regime.example.org/ would like to collect a list of their users who are logged into http://controversial-website.example.com/? Ignoring the privacy implications for a second, as a website developer, you might like to know if your visitors are logged into GMail; you could use that information to automatically fill the email fields in your forms with "@gmail.com"... Perhaps you might want to make your Facebook "like" buttons more prominent if you can tell your visitor is logged into Facebook at the moment?
Convertir une page html en image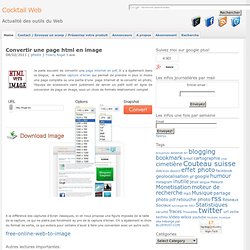 Je parle souvent de convertir une page internet en pdf, Il y a également dans ce blogue, la section capture d'écran qui permet de prendre ni plus ni moins une page complète ou une partie d'une page internet et la convertir en photo, l'équipe de sciweavers vient justement de lancer un petit outil en ligne de conversion de page en image, sous un choix de formats relativement complet. A la différence des captures d'écran classiques, ici on nous propose une figure imposée de la taille de la capture, ce qui ne plaira pas forcément au pro de la capture d'écran. On a également le choix du format de sortie, ce qui evitera pour certains d'avoir à faire une conversion avec un autre outil.