Design
NOTCOT.ORG. Technical Art and Steampunk Contraptions. "The keyboard arrived today and looks great!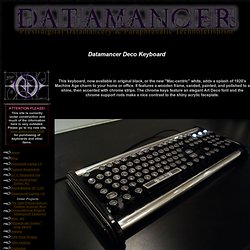 It looks perfect in the space & the action is very nice on it. " -P.T. "Rich, I just wanted you to know that the keyboard you made for us is seriously perfect! When we set out to open a movie theater and video store, we decided that we had to create a unique space to match our unique business concept. French By Design. Looks like good Tea Infuser by Pablo Matteoda. P_secret stash 2010 - yiting cheng. Secret Stash 720 HD from yiting cheng on Vimeo .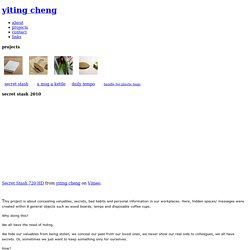 T his project is about concealing valuables, secrets, bad habits and personal information in our workplaces. Here, hidden spaces/ messages were created within 8 general objects such as wood boards, lamps and disposable coffee cups. Clever and Creative Tea Packaging. Clever tea packaging and creative tea bag designs from all over the world.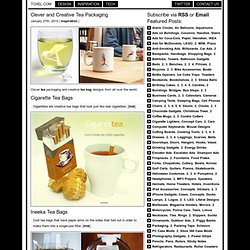 Cigarette Tea Bags Cigarettea are creative tea bags that look just like real cigarettes. [link] Ineeka Tea Bags. Contemporary Lighting & Home Accessories. Color Scheme Designer 3. Library information desk. Inspiration Pad on the Behance Network. Tapi by Dreamfarm. Water Shade by Yitu Wang. This project is completely apolitical.
It IS literally a gate of water. This project goes by the name of "Water Shade" and keeps a shield of H2O around the fruit it is sworn to protect. It's both a dish and a cover, working with water to keep freshness in and everything larger than Oxygen OUT! Designer Yitu Wang doesn't want to keep you from your delicious apples though, so there's a built in detector that sees your hand in approach, and thus is does desist. Moisture is locked in. Rolling Bridge « Heatherwick Studio. London, UK The studio was commissioned to design a pedestrian bridge to span an inlet of the Grand Union Canal at Paddington Basin, London, and provide an access route for workers and residents.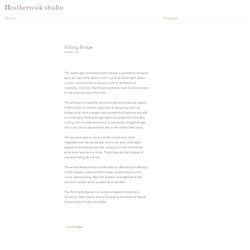 Crucially, the bridge needed to open to allow access for the boat moored in the inlet. The aim was to make the movement the extraordinary aspect of the bridge. A common approach to designing opening bridges is to have a single rigid element that fractures and lifts out of the way. X – tape, Hinge Print Tape by Hyoungmin Park & Jeongmin Lee for mmiinn.
Sealing With A Hinge So far you have been sealing your cartons with either duct tape or normal transparent scotch tape.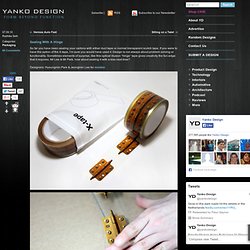 If you were to have the option of the X-tape, I'm sure you would have used it. Design is not always about problem solving or functionality. Sometimes elements of surprise, like this optical illusion "hinge" tape gives creativity the fun-edge that it requires. Mr Lee & Mr Park, how about sealing it with a kiss next time? Well Done: a food company annual report that has to be cooked first. Croatian creative agency Bruketa & Zinić have designed an annual report for food company Podravka that has to be baked in an oven before it can be read.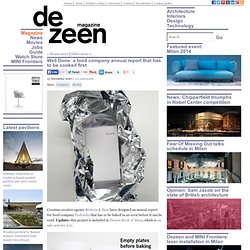 Update: this project is included in Dezeen Book of Ideas, which is on sale now for £12. Called Well Done, the report features blank pages printed with thermo-reactive ink that, after being wrapped in foil and cooked for 25 minutes, reveal text and images. Here are details from Bruketa & Zinić: 34 Cleverly Designed Inventions. Dry-Tech: The 20 Coolest Umbrellas You'll Ever See. Dry-Tech: The 20 Coolest Umbrellas You'll Ever See The invention of the umbrella can be traced back thousands of years, but never to one absolute source.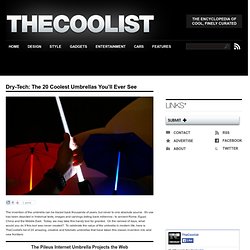 It's use has been depicted in historical texts, images and carvings dating back millennia-- to ancient Rome, Egypt, China and the Middle East. Today, we may take this handy tool for granted. On the rainiest of days, what would you do if this tool was never created? 4thamendmentwear. History of the Coca Cola bottle. This Awesome Urn Will Turn You into a Tree After You Die | Design for Good. You don't find many designers working in the funeral business thinking about more creative ways for you to leave this world (and maybe they should be).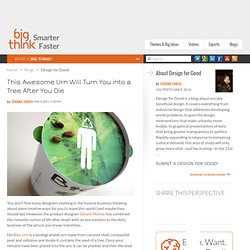 However, the product designer Gerard Moline has combined the romantic notion of life after death with an eco solution to the dirty business of the actual, you know, transition. His Bios Urn is a biodegradable urn made from coconut shell, compacted peat and cellulose and inside it contains the seed of a tree. Once your remains have been placed into the urn, it can be planted and then the seed germinates and begins to grow. Lost & Found: Comfy Chair Cushioned with Built-In Storage. Lighters, keys, coins … cushioned chairs and couches are notorious for nomming all kinds of things that slip out of our pockets or otherwise get left behind and slide into the cracks.
This design simply celebrates that existing phenomena, like a giant-sized pin cushion. It may come as no surprised that this clever-but-boxy furniture piece was developed by architectural designers (of Daisuke Motogi Architecture), who have a knack for exposing and expanding uses for classic furnishing types. Pixel-like pads cover the entire surface of the seat both inside and out, forming slots in which one can accidentally drop a small item or intentionally stick a book, magazine, remote and more.
Cleaning this piece would not be trivial, but for those who enjoy the occasional boredom-induced, couch-cushion treasure hunt, who knows what you might find that you or someone else left behind. Men: Pee And Wash In The Same Fixture! Lenny Bruce would have had such fun with this, but this just makes so much sense, a sink built on top of a urinal! And designer Yeongwoo Kim has made it look good, too. The theoretical sequence is that you use the urinal, then wash your hands and the washwater rinses the urinal, saving water.
Since of course, everybody washes their hands after peeing, right? It makes even more sense in multiple units in mens rooms, saving both space and water. 13 sites to get your creative juices flowing | dreambeaker. Imaginative Package Designs - Design. Tea-time – Tea Steeper Design by Pengtao Yu. Creative and Unusual Cutlery Designs. SWYP: See What You Print. Awesome-Things_5.jpg (JPEG Image, 589 × 600 pixels)
---