Decor
House. We love the global cool design sensibility of Casamidy products.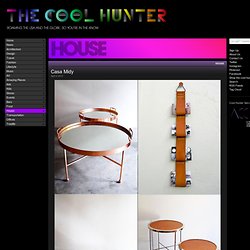 It is firm that combines that design sensibility with a deep respect for traditional craftsmanship. All products are designed by the founders, husband-and-wife team Anne-Marie Midy and Jorge Almada, and manufactured by more than 40 artisans, artists and craftspeople in San Miguel De Allende, Mexico. 50 Ceiling Design Ideas.
Home design DIY Kids Weddings Fashion and Style FOOD Cool stuff 50 Ceiling Design Ideas A lot of people prefer simple white ceilings.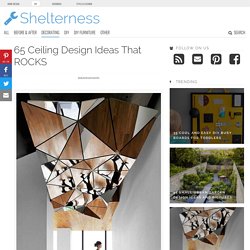 Sometimes that's because of neglecting the possibility of ceiling design while other times that's because of they think that's the best solution. The Best Couch Ideas For Your Home. 35 Amazing Uses For Old Pallets. Marian Built | Furniture and Furnishings. A Canal Home in Bruges, Belgium - Slide Show. DIY Doily Light: Simple Suspended-Sphere Lace Lamp Shade. So simple a child could make it – and have fun in the process, too.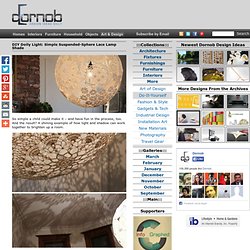 And the result? A shining example of how light and shadow can work together to brighten up a room. Swedish craftswoman Isabelle Dos started with a simple party-shop balloon, blown up big and wrapped in white lace place settings painted with wallpaper glue. The soaked material sticks readily to the sides of the inflated sphere, overlapping to form a contiguous shell, suspended and left to dry overnight like a plaster cast. Pop the balloon and presto: a little cut in the top lets you drop in a bare bulb and create your own chandelier, potentially using whatever pattern you want (if lace feels a little too old-fashioned) to frame the outside and filter the light. Cool Finds: Chalk It Up! There are three places I've been dreaming about coating with chalkboard paint.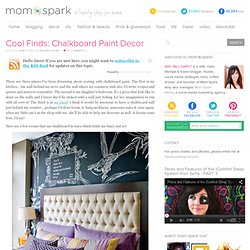 The first is my kitchen… the wall behind my stove and the wall where my counters/sink sits. I'd write recipes and quotes and notes to remember. Home Design, Pictures, Remodel, Decor and Ideas - page 24. The Beauty of Collecting Vintage Bottles. Vintage bottles are so interesting to collect because of their unique imperfections unknown history beautiful detailing Each bottle has a distinct character, color, and shape, which represent a little piece of history from the "good ol' days".
I have a neighbor who has a huge vintage bottle collection, which was amassed when working as a Clam Digger in the Long Island Sound. His assortment includes everything from Jameson Whiskey bottles, medicine pill bottles, and Ballantine Brewery beer bottles. The characteristics of each bottle is so unique and the weight in your hand seems to tell it's history. Garage Sales , Consignment Stores , Vintage Shops , Antique Malls ~ All are places to find vintage bottles.
Decorating with rope. Smiley did a post a while back on using rope in interior design – so here's an update with some new pics!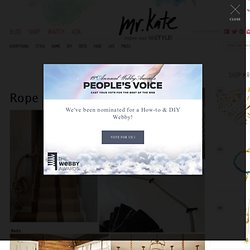 I posted this on Hello Giggles today and here's what i wrote… "I love decorating with rustic materials (cue link to DIY burlap upholstered chairs) and rope totally ties into that… ha, get it, ties? Okay, let's not get tangled in the silly stuff – the point is, rope is an easy and accessible item to use in interior decorating. Just visit your local hardware store and pick up a nice bundle for on-the-cheap! The 20 Most Beautiful Bookstores in the World. [Editor's note: In celebration of the holidays, we're counting down the top 12 Flavorwire features of 2012.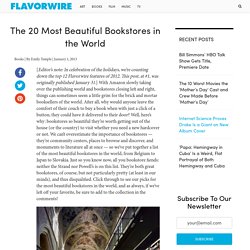 This post, at #1, was originally published January 31.] With Amazon slowly taking over the publishing world and bookstores closing left and right, things can sometimes seem a little grim for the brick and mortar booksellers of the world. After all, why would anyone leave the comfort of their couch to buy a book when with just a click of a button, they could have it delivered to their door? Well, here's why: bookstores so beautiful they're worth getting out of the house (or the country) to visit whether you need a new hardcover or not. We can't overestimate the importance of bookstores — they're community centers, places to browse and discover, and monuments to literature all at once — so we've put together a list of the most beautiful bookstores in the world, from Belgium to Japan to Slovakia.
Search. 20 Sensational Bookshelves  Mismatched. Mismatched chairs around the dining table certainly isn't anything new but it's a design trend I really admire.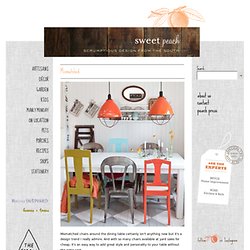 And with so many chairs available at yard sales for cheap, it's an easy way to add great style and personality to your table without the extra cost... I really like this top grouping of chairs. 4239_db08.jpeg (JPEG Image, 853 × 1280 pixels) - Scaled (64%) Reader request - bookshelves. My ideal home. Bookshelf Porn: Archive. RECYCLED SHIPPING PALLET FURNITURE - recycled, eco, sustainable, design, redesign, reused, lifestyle, diy, eco on budget, sustainable lifestyle, do-it-yourself, creative environmental options, craft, organics, gardening, planting, flow. Renovating. Let 'er Rip: Cool New Home Wallpaper for DIY Room Decor. This is do-it-yourself decor at its best: wallpapers that provide a framework to let children get creative and adults customize their interior design.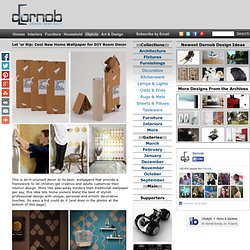 More like peal-away borders than traditional wallpaper per say, this idea lets home owners blend the best of stylish professional design with unique, personal and artistic decorative touches. So easy a kid could do it (and does in the photos at the bottom of this page). Tired of watching the paint peal (metaphorically or otherwise)? This is a bit like wallpapering in reverse. Sound complexThe concept is simple: add the peal-away paper elements to a selected wall surface, decorate with paint on the in-between spaces and pull back the sticky tape-like material to reveal the final design.
15 Unique and Creative Staircases. Stylish modern stairs and creative staircase designs from all over the world.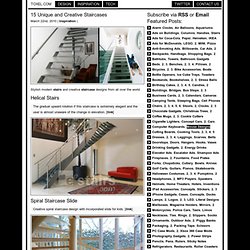 Helical Stairs The gradual upward rotation if this staircase is extremely elegant and the user is almost unaware of the change in elevation. [link] Spiral Staircase Slide. Stairway to heaven. Posted by victoria //// 69 Comments i love everything about this beautiful home i saw on mixr. can you imagine having a lovely staircase like this, and then having it take you along its winding steps to all of this?
This 1970′s townhouse renovated by Swedish interior designer Marie Olsson Nylander, is pretty much a decor dream come true for me. i love all the white, and rustic woods with dashes of bright colors and eclectic, vintage-inspired home furnishings. yep, this is my stairway to heaven. Côté Sud, le magazine de l'art de vivre dans le Sud - Cotemaison.fr. Temptation. Beach stalking 1. Old Garage turned Mini Dream Home! | 20 Insanely Creative Bookshelves. DIY: Wine Bottle Light. 10 The Most Cool Floating Staircase Designs. Dear Italy, I love you... ♥ Мила Италия, обичам те... My first project. "Tear Off" Wallpaper by ZNAK.
Man decorates basement with $10 worth of Sharpie | Heraldleaderphoto.com. 21 ways of turning pallets into unique pieces of furniture. Charming Apartment with Surprising Design Elements. Design for kids and the home. Desire to inspire - jo's page. Color - Live Like You & Marmalade Interiors. Bookshelves + Staircase = Bookstairs. Bathroom Design 01 Mixed Media by Benjamin Bullins - Bathroom Design 01 Fine Art Prints and Posters for Sale. Blog favourites of late. Hanging Boat Bed. Pictures - 41 Most spectacular dream bedrooms ever - San Diego interior decorating.
---