Comfort Food
Get flash to fully experience Pearltrees
I am tortured by two opposing forces in my life: the fact that I love poached eggs–on anything and everything, from asparagus to slow-roasted slices of tomato, crisped cups of Canadian bacon, black bread, I could keep going… — and the fact that I'm terrible at making them. And this is why it is so ridiculous amusing that I am giving you–or at least the eleven of you that said you were afraid of poaching eggs –a poached egg tutorial today. And by "today" I mean two days because it took me two tries to even get one worth photographing (though in my defense, holding the camera in your right hand while lowering an egg into a pot with your left does have a certain inevitability of disaster). Obviously, this makes me some sort of expert, so let's get started!
Remember that slow cooked sweet potato chili ? Goodness, I hope so. Well, bake this yellow number to go alongside it.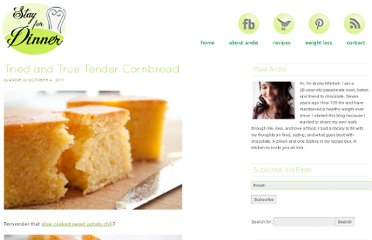 It's spring, so I am looking for fresher, lighter dinners — but it's rainy, so I'm not entirely done with my oven just yet. Here's a warm, incredibly tasty dinner dish that suits spring perfectly. Take a mess of caramelized onions, soupy and rich, and add a touch of mustard and some chicken thighs. Braise in the oven, then broil with a handful of Gruyère cheese. It's rich without being heavy, and deeply flavorful without too much work.
Funky versions of America's simplest sandwich have been popping up at national restaurants and quick-service chains more and more in recent years. Problem is, when restaurants start to get creative, it usually spells trouble for your waistline. Au Bon Pain's Prosciutto Mozzarella Sandwich is a perfect example of this "more is more" mantra, where a few thin slices of cured ham and a mozzarella blanket turn a lunchtime bite into a sandwich that packs as much saturated fat as 5 scoops of Breyers vanilla ice cream.