Zebedy
Choose from hundreds of funniest templates and photo montages, upload your picture and have fun! This photo album contains our most popular comic photo parodies. Just select a prank photo that you want to create, upload photo of yourself or your family member or a celebrity photo you want to joke with and have fun in matter of seconds. Our website uses advanced face detection technology and original face skin tone color calibration to create the funniest, most realistic photo montages. We highly recommend that you use a webcam to take snapshots of yourself to express a full range of emotions to create funny photo lol of your own. If there is any particular funny photo scenario you would like to see on our website, please provide your feedback.
Free funny pictures, photo pranks & jokes, fun comic albums, humor – See Now – SeeNow.com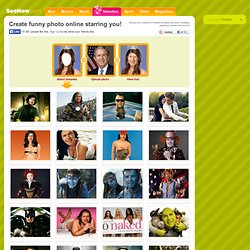 don't forget to smile
Stay Positive
Q: Where'd you get the cursor? A: http://www.cursors-4u.com Q: What do you use to edit the pictures?