Rosicrucian philosophers
Thomas Vaughan. Francis Bacon. Francis Bacon, 1st Viscount St.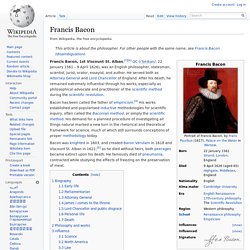 Alban,[a] QC (22 January 1561 – 9 April 1626), was an English philosopher, statesman, scientist, jurist, orator, essayist, and author. He served both as Attorney General and Lord Chancellor of England. After his death, he remained extremely influential through his works, especially as philosophical advocate and practitioner of the scientific method during the scientific revolution. Sir Francis Bacon Quotes. - Read the works of Sir Francis Bacon online at The Literature Page A wise man will make more opportunities than he finds.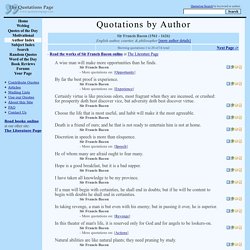 Sir Francis Bacon By far the best proof is experience. Certainly virtue is like precious odors, most fragrant when they are incensed, or crushed: for prosperity doth best discover vice, but adversity doth best discover virtue. Paracelsus. Paracelsus (/ˌpærəˈsɛlsəs/; born Philippus Aureolus Theophrastus Bombastus von Hohenheim, 11 November or 17 December 1493 – 24 September 1541) was a Swiss German[3] Renaissance physician, botanist, alchemist, astrologer, and general occultist.[4] He founded the discipline of toxicology.[5] He is also known as a revolutionary for insisting upon using observations of nature, rather than looking to ancient texts, in open and radical defiance of medical practice of his day.[5] He is also credited for giving zinc its name, calling it zincum.[6][7] Modern psychology often also credits him for being the first to note that some diseases are rooted in psychological illness.[8] His personality was stubborn and independent.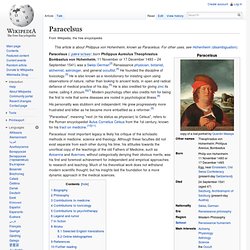 He grew progressively more frustrated and bitter as he became more embattled as a reformer.[9] Meister Eckhart. Eckhart came into prominence during the Avignon Papacy, at a time of increased tensions between the Franciscan Order and Eckhart's Dominican Order of Preachers.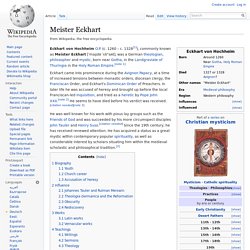 In later life he was accused of heresy and brought up before the local Franciscan-led Inquisition, and tried as a heretic by Pope John XXII. [note 2] He probably died before his verdict was received. [citation needed][note 3] John of Ruysbroeck. The Blessed John of Ruysbroeck (Dutch: Jan van Ruusbroec, Jan (or Johannes) van Ruysbroeck, pronounced [jɑn vɑn rœ.y̯zbruk, ry.zbruk]; 1293 or 1294 – 2 December 1381) was one of the Flemish mystics.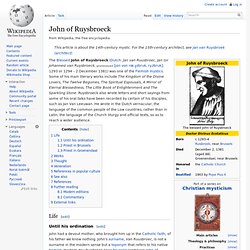 Some of his main literary works include The Kingdom of the Divine Lovers, The Twelve Beguines, The Spiritual Espousals, A Mirror of Eternal Blessedness, The Little Book of Enlightenment and The Sparkling Stone. Ruysbroeck also wrote letters and short sayings from some of his oral talks have been recorded by certain of his disciples, such as Jan Van Leeuwan. He wrote in the Dutch vernacular, the language of the common people of the Low countries, rather than in Latin, the language of the Church liturgy and official texts, so as to reach a wider audience.
Life[edit] Until his ordination[edit] Roger Bacon. Roger Bacon, O.F.M.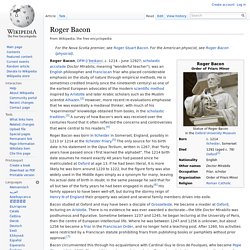 (c. 1214–1294) (scholastic accolade Doctor Mirabilis, meaning "wonderful teacher"), was an English philosopher and Franciscan friar who placed considerable emphasis on the study of nature through empirical methods. He is sometimes credited (mainly since the nineteenth century) as one of the earliest European advocates of the modern scientific method inspired by Aristotle and later Arabic scholars, such as those of Muslim scientist Alhazen.[2] However, more recent reevaluations emphasize that he was essentially a medieval thinker, with much of his "experimental" knowledge obtained from books, in the scholastic tradition.[3] A survey of the reception of Bacon's work over centuries found it often reflects the concerns and controversies central to the receivers.[4]
---