Scripting
vba - detect event on IE from visio
A VBScript Utility To Add Users To a Group
Scripting Active Directory Users using VBScript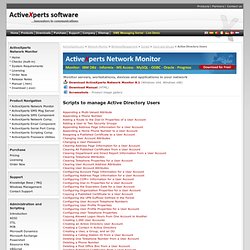 Monitor servers, workstations, devices and applications in your network
Ways to Launch your application | Quick Test Professional(QTP)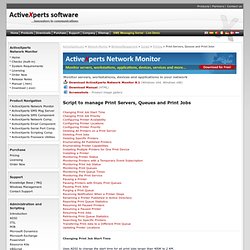 Monitor servers, workstations, devices and applications in your network
Print Server Scripting using VBScript
VBScript Functions
Administrative RoutinesAdministrative Routines to help manage data Browser Function Returns the http_user_agent server variable IsCookieReady Function Determines if the current browser allows cookies IsFrameReady Function Determines if the current browser is able to displayed framed pages IsJSReady Function Determines if the current browser is able to run client-side javascript IsVBSReady Function Determines if the current browser is able to run client-side VBScript MkArchive Function Creates a zip archive of a specified files on the server RegDelete Statement Deletes Keys and Values from the Windows Registry RegRead Function Reads Keys and Values contained in the Windows Registry RegWrite Statement Writes Keys and Values into the Windows Registry SessInfo Function Returns a two-dimmensional array containing session variable names and their corresponding values Shell Statement Executes a DOS command on the server Spider Object Parses and saves HTML Meta Tag, head and or body data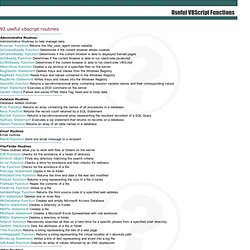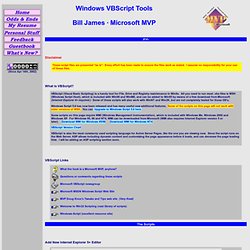 VBScript Tools by Bill James
VBScript (Visual Basic Scripting) is a handy tool for File, Drive and Registry maintenance in Win9x.
sendkeys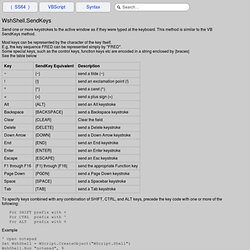 Send one or more keystrokes to the active window as if they were typed at the keyboard. This method is similar to the VB SendKeys method.
Downloads
Run an external Command. Syntax objShell.Run (strCommand, [intWindowStyle], [bWaitOnReturn]) Key objShell : A WScript.Shell object strCommand : The Command to be executed intWindowStyle (Optional) : Int value indicating the appearance of the program's window.
VBScript .Run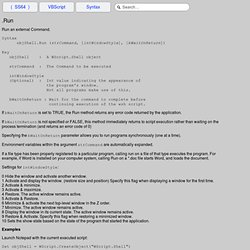 VBScript in a nutshell
I designed this page as a mini site map for printer logon scripts.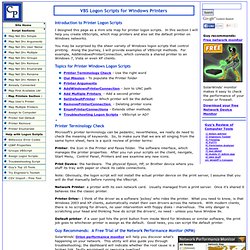 Logon Script Printer - AddWindowsPrinterConnection VBScript Method
Executive Summary:
How to Multi-Thread VBScript Scripts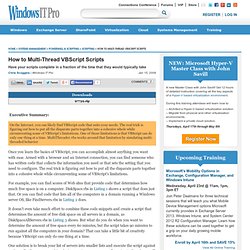 Working with operators in VBScript