Clean Energy
Windstalks. Atelier dna Designed for Site #3 in Abu Dhabi, adjacent to Masdar City Site.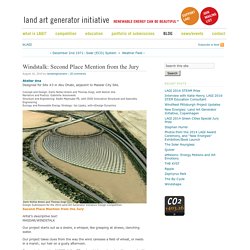 Concept and Design: Darío Núñez Ameni and Thomas Siegl, with Atelier dna Narrative and Poetics: Gabrielle Jesiolowski Structure and Engineering: Radhi Majmudar PE, with ISSE Innovative Structural and Specialty Engineering Ecology and Renewable Energy Strategy: Ian Lipsky, with eDesign Dynamics Design Submission for the 2010 Land Art Generator Initiative Design CompetitionSecond Place Mention from the Jury Artist's descriptive text: MASDAR/WINDSTALK Our project starts out as a desire, a whisper, like grasping at straws, clenching water. Our project takes clues from the way the wind caresses a field of wheat, or reeds in a marsh; our hair on a gusty afternoon. If Solar Were Subsidized like Fossil Fuels.
Renewable Energy. Pond-Powered Biofuels: Turning Algae into America's New Energy. Just three years ago, Colorado-based inventor Jim Sears shuttered himself in his garage and began tinkering with a design to mass-produce biofuel.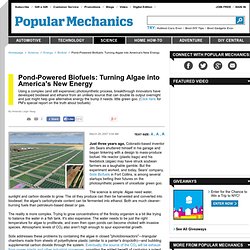 His reactor (plastic bags) and his feedstock (algae) may have struck soybean farmers as a laughable gamble. But the experiment worked, and today, Sears' company, Solix Biofuels in Fort Collins, is among several startups betting their futures on the photosynthetic powers of unicellular green goo. The science is simple: Algae need water, sunlight and carbon dioxide to grow. The oil they produce can then be harvested and converted into biodiesel; the algae's carbohydrate content can be fermented into ethanol.
---