Interior Design and Architecture
I am looking to have a career in one of these fields and I actually find it relaxing to design. It's a way to express my creativity. Aug 18
poz07.jpg (JPEG Image, 818x544 pixels)
By Eric • Mar 23, 2011 • Selected Work The Tangga House is another Singapore's dream home designed by Guz Architects. Completed in 2009, the 7,663 square foot residence is located in Holland Village, an elite district of Singapore that is famous amongst the expatriate community. The luxury single-family home gives the owners the opportunity to live in harmony and comfort with nature, in Singapore's hot tropical climate.
Tangga House by Guz Architects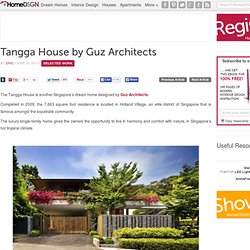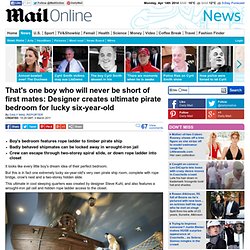 By Daily Mail Reporter Created: 15:29 GMT, 4 March 2011 Boy's bedroom features rope ladder to timber pirate shipBadly behaved shipmates can be locked away in wrought-iron jailCrew can escape through two-storey spiral slide, or down rope ladder into closet It looks like every little boy's dream idea of their perfect bedroom.
That's one boy who will never be short of first mates: Designer creates ultimate pirate bedroom for lucky six-year-old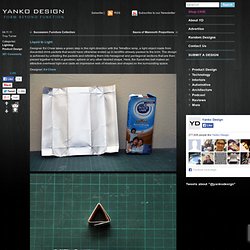 Liquid to Light Designer Ed Chew takes a green step in the right direction with the TetraBox lamp, a light object made from discarded drink packets that would have otherwise ended up in landfills already packed to the brim. The design is achieved by unfolding the packets and refolding them into hexagonal and pentagonal sections that are then pieced together to form a geodesic sphere or any other desired shape.
TetraBox Light by Ed Chew
Cozy book nook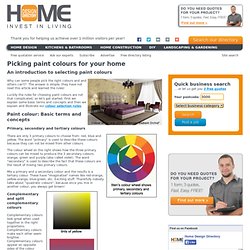 Picking paint colours for your home
An introduction to selecting paint colours Why can some people pick the right colours and and others can't? The answer is simple, they have not read this article and learned the rules! Luckily the rules for choosing paint colours are not that complicated, so let's get started.
House To Home | kitchen, bathroom, bedroom, living room and garden design and decorating ideas
The Great Geek Manual » The World's Most Beautiful Libraries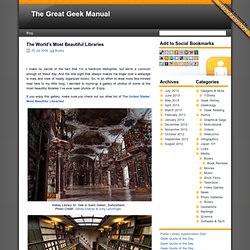 I make no secret of the fact that I'm a hardcore bibliophile, but we're a common enough lot these day. And the one sight that always makes me linger over a webpage is rows and rows of neatly organized books. So, in an effort to draw more like-minded read here to my little blog, I decided to round-up a gallery of photos of some of the most beautiful libraries I've ever seen photos of. Enjoy. If you enjoy this gallery, make sure you check out our other list of The United States' Most Beautiful Libraries! Abbey Library St.
Home Decorating Photos, Interior Design Photos, Home Decorating Pictures, House Interior & Exterior Design Pictures, Home Decor & Improvement Ideas - GetDecorating.com
OpenBuildings / the crowdsourced buildings database
The Psychology of Color [Infographic] | Louisville Painters
PANORAMICDOORS.COM THE NEXT GENERATION OF PATIO DOORS
Design a Room - Virtual Room Design Tool
20 Weirdest Apartments of the World
Organizing and Storage Videos
Dramatic Loft Bedrooms for Kids
Homes - Design inspiration
In my master bedroom, I wanted an extra large headboard that would make a statement.Here are my instructions on how to make a fabric headboard…not just any fabric headboard...you'll see. Step 1: Find fabric that you love! I found this fabric at my favorite fabric store called Home Fabrics and Rugs. It cost 5.99 a yard, and I bought 10 yards. (I still have some left over, but we'll just play it safe and say it cost me $59.00 for the fabric. One of the main reasons I chose this fabric was because it was neutral in color.
Tutorial: How to make a Fabric Headboard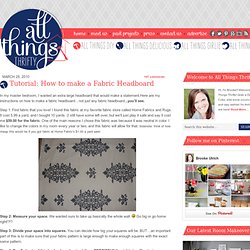 lovehome.co.uk: Bedroom Design Ideas & Bedroom Designs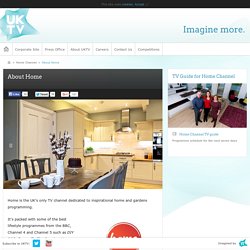 Our sites use cookies to improve your user experience, enable the sites to work and to perform functions such as recognising you when you visit or helping us understand visitor preferences. Third parties also use cookies to deliver advertising messages. For more information on our cookies and how to update your settings, go to our Cookie Notice . If you continue to browse this site without changing your settings, we will assume you consent to the use of all cookies described in our Cookie Notice . Find out more Close
Outdoor style
[...] miss, miss design, miss-design, missdesign, design, illustration, interior, interior design, style interior, interior old style, workspace, workplace, creative workspace, veranda, garden, balcony, exterior, photography, studio, 3d, typography, blog, person, architecture, arts, creative, layout, design studio, inspire, inspiration, technology, resources, tools, internet tools, discussions, bridal bouquet, font, free font, digital art, logo, logotype, typographic design, tutorial, tutorials, icon, icon tutorial, how to, industrial design, camera lens, canon, nikon, pentax, olympus, books, bookshelves, cupboard, chair, unique style, unique design, unique interior, before and after, benchmark Outdoor style | Miss Design – StumbleUpon [...]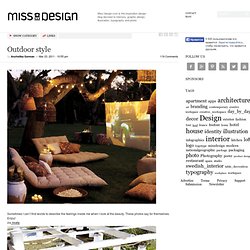 X-Ray Kitchen: Custom Cabinets with Built-In Back-Lighting
New to a kitchen and not sure where to locate which dishes? No worries: this clever custom kitchen cabinet system will light your way to the right serving bowls, plates, utensils and gadgets, showing their forms as shadows directly on the doors of these cabinets. Ever the hybrid architect, artist and minimalist designer, Jean Nouvel has accomplished a great deal with this design idea – the find-anything functionality of see-through cabinetry, the animated and ever-changing artistry of light and dark shapes and the naturally and of course the built-in lighting itself that can illuminate the kitchen background while you cook.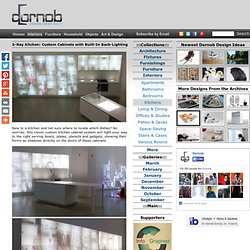 Overhead + Under Bed = Space-Saving Shelving & Storage
Saving space is not something we do for its own sake – in this case, a cutting-edge media room was the goal, and cleverly lofting and concealing of books, CDs and DVDs provided the floor space to make this dream den a reality. Johan wanted to use ever spare bit of wall surface for a larger television and smaller wall-mounted computer screen – no dressers and few shelves getting in the way, nor objects behind the couch to cramp the distance between seating and screens. Wrap-around shelving features thicker top and bottom borders, creating a dynamic series of stripes that animate and decorate the space – being pushed out from the wall, these in turn allow for under-shelf indirect lighting in addition to a central overhead light fixture. Audiophiles and film fanatics may find this cozy corner nook to be of secondary concern, but its existence enables the rest of the open-plan redesign … and for those of us who like little lofts and interior hideaways, it looks like a lovely space to read.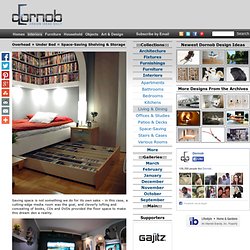 Picking house paint colors isn't just difficult. It's terrifying! Pick colors that are blah, and your house will seem flat and featureless.
Pick Paint Colors For Your House
OVERFLOW BATHTUBS | BY KASCH
Sky Garden House
I think one of the reasons that many are skeptical about environmental design is because they think its terribly complex and costly. It does take a bit more effort on the front end, but it's definitely not rocket science. This architecture by Guz Architects is a wonderfully developed minimalistic design with a curvilinear flare that really brings out the organic coverings.
Blog Archive » Building Harry Potter's Universe
Shop furniture and find interior ideas in the UK at mydeco
Singita, Luxury African Game Reserve | Luxury Furniture, Property, Travel...
Moshe Safdie: Singapore
PHOTOGRAPHY on Photography Served
13 Repurposed Dwellings | Herald Daily
Kona Residence
Bed and bedding, beds, bedding, chairs, lamps, wardrobeds and commodes. Pascia storage bed
Home Decorating
Picking colors for your home, 5 tips (Livelygrey)
Explore Threadless products at Blik
Sticklebook - the invisible bookshelf
Cool Interior Tree Home: Best Kids Bedroom Design Ever?
Top 5 Friday: Upcycling Ideas (Start As One Thing, End As Another!) - Style Sheet
Badass Bridge of the Day
Design Drool: A Green House You'll Actually Want to Live In
Color Blocking - iVillage
Furniture for Small Spaces
Pour a Glass of Wine and Sink Into One of These Unusual, Luxurious Bathtubs
$7 Million Residence in San Francisco by John Maniscalco Architecture
The Lover's Chair (by @baekdal) #design
Lofted Space-Saving Furniture for Bedroom Interiors
The Coolest Elevator in New York