Jewellery
This is an inexpensive and fast way to make a cloth covered necklace holder to show off your paper jewelry. I was inspired after reading a post from the Stella + Hodge blog. She made really pretty necklace holders with decorative paper. I decided to cover mine with fabric to make it a little sturdier.
How to Make a Necklace Display Stand in 10 Minutes | I Love Paper BeadsI Love Paper Beads
The jewelry you make from this design is yours do with as you please. You may make it as often as you like without any restrictions. For example, you can make this jewelry for yourself, for friends, or to sell.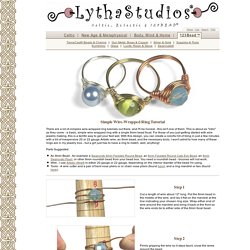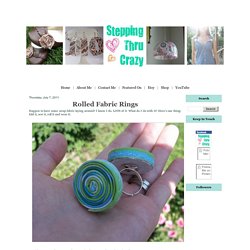 Stepping Thru Crazy: Rolled Fabric Rings
Happen to have some scrap fabric laying around? I know I do. LOTS of it. What do I do with it?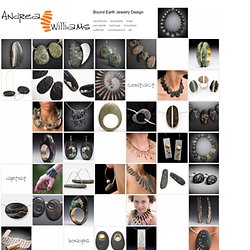 Praesent vestibulum molestie lacus. Aenean nonummy hendrerit mauris. Phasellus porta. Fusce suscipit varius mi. Cum sociis natoque penatibus et magnis dis parturient montes, nascetur ridiculus mus.
Bound Earth - Contemporary Jewelry Design by Andrea Williams
Today we offer you to create yourself a new fixture – the so-called African earrings! They are knitted very quickly and easily. And most importantly – earrings perfectly fit in your beach wardrobe.
african earrings – crochet tutorial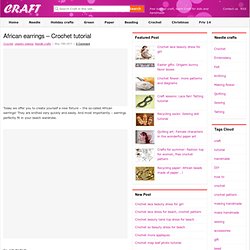 scarf, knit, weareables, accesories I was just curious if it would be possible to knit on a pick or comb. So, I tried it.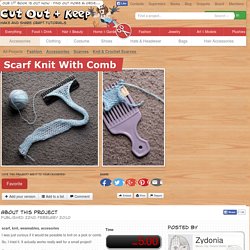 Tribal Jewellery | Find the Latest News on Tribal Jewellery at Tiger Tem's Fashion Bites
Splenderosa: August 2009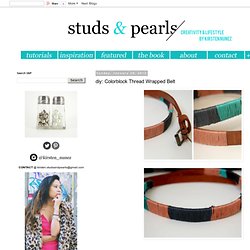 I was browsing Polyvore a while back, and came across a $52 J. Crew belt. It was super cute, but I knew it could easily be DIY'd - and I happened to have all of the supplies on hand. It's really simple, and can easily be done within an hour or so.
Colorblock Thread Wrapped Belt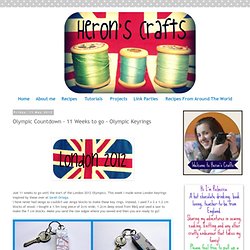 Just 11 weeks to go until the start of the London 2012 Olympics. This week I made some London keyrings inspired by these over at Sarah Ortega. I have never had Jenga so couldn't use Jenga blocks to make these key rings. Instead, I used 7 x 2 x 1.2 cm blocks of wood. I bought a 1.5m long piece of 2cm wide, 1.2cm deep wood from B&Q and used a saw to make the 7 cm blocks.
Heron's Crafts: Olympic Countdown - 11 Weeks to go - Olympic Keyrings
The Imagination Tree: Salt Dough Olympic Medals!
We made some salt dough medals with number imprints ready to celebrate the Olympics which are being held in our home city of London this year! Salt Dough Recipe: 1 cup salt1 cup plain (all purpose) flour3/4 cup water Simply combine the flour and salt in a bowl, then add the water gradually. Knead the mixture until it becomes a dough-like consistency.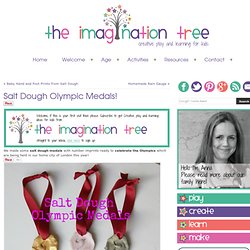 RainbowDepot.com: Handmade Friendship Bracelets
Check out these fun and colorful Handmade Friendship Bracelets from Rainbow Depot. They come in a ten pack and each one is a different design and color. They expand up to 9" so you can wear them on your wrist or ankle. Order some for yourself, and order some for your bestie. Those good ol' Golden Girls said it best when they said, "Thank you for being a friend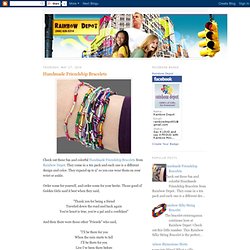 Chan Luu bracelets are just so cool! What's great about them is that they use simple macrame techniques to produce different results, this time with the addition of beads! This tutorial adds on to my previous Square Knot Friendship Bracelets, but utilizes the beads in a different way; on the outside of the knots as opposed to the inside. What you get is a totally different result! Step 1: Gather materials. Needed are 3mm glass gemstone beads, cotton thread for knotting, scissors, tape, and a bead and crimp for closure.
This is such a fun and easy way to spruce up those old boring silver hoop earrings that you may laying around. Does anyone even wear silver hoop earrings anymore? I don't.
DIY Colorblock Earrings
This newest tutorial is full of color! Rainbowlicious, in fact. Inspired by All the Rage's Day Bright Rainbowlicious Hoops, these simple earrings come together quickly. All you need is some wire and thread! I used tie-dye embroidery floss from Michael's to create the tie-dye look. If you don't have any, you can use just plain colors.
Quiet Lion Creations: All the Rage's Rainbowlicious Hoops
I never thought I would do anything with metal etching. Well, never say "never", right? Thanks to Meredith Arnold, I wanted to try etching.
Around Wire: Metal Etching - My First Try
DIY: Ball And Chain Stackable Rings «
"Lines Across": Makeover Hoop Earrings
Beaded Bracelets
Armband av smälta pärlor – Melted bead bracelet
11 Eureka: Techni-Color Bracelet DIY
The Lulu Bird: Yarn and Pipe Cleaner Jewelry
Painted Fabric Beads
Google Image Result for http://sphotos.xx.fbcdn.net/hphotos-ash2/p480x480/74696_357304391000495_165773003486969_1026483_1012334572_n.jpg
Flashback: Wire Wrap Jewelry
Zipper & Felt Leaf Brooches so clever
a handstitched Friday – Zipper Rosettes
raw materials for jewellery
Creative Torbay / events / Yvonne Temple / Events / Thu 3rd Mar 2011 / Button Jewellery Workshop, Totnes
Button Jewellery - Necklace & Rings - Jet Designs
DIY copper etching tutorial « Rings and Things
DIY Crafts I <3 - Bracelets to Make
il_430xn-156987278.jpg (430×626)
do it jewelry
do it jewelry