Endocannabiod System
Www.cannabisinstitute.org/wp-content/uploads/2011/08/Russo_Tale_of_Two_Cannabinoids_Med_Hypoth_2006.pdf. Introduction to the Endocannabinoid System. Dustin Sulak, DOMaine Integrative Healthcare As you read this review of the scientific literature regarding the therapeutic effects of cannabis and cannabinoids, one thing will become quickly evident: cannabis has a profound influence on the human body.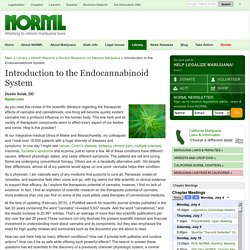 This one herb and its variety of therapeutic compounds seem to affect every aspect of our bodies and minds. How is this possible? In my integrative medicine clinic in central Maine, we treat over a thousand patients with a huge diversity of diseases and symptoms. Endocannabinoid System Network (ECSN) - ECS Full Length Animation. Exploring the Endocannabinoid System. RUN FROM THE CURE - Full Version. Info/Cannabinoids-Review.pdf. Cannabidiol: The Wonder Drug of the 21st Century? Cannabidiol: The Wonder Drug of the 21st Century?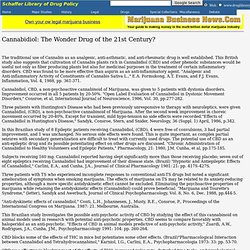 The traditional use of Cannabis as an analgesic, anti-asthmatic, and anti-rheumatic drug is well established. This British study also suggests that cultivation of Cannabis plants rich in Cannabidiol (CBD) and other phenolic substances would be useful not only as fiber producing plants but also for medicinal purposes in the treatment of certain inflammatory disorders. THE ENDOCANNABINOID SYSTEM: PHYSIOLOGY AND PHARMACOLOGY.
Twenty-four years of pharmacological research separate the identification of the main psychoactive constituent of Cannabis sativa preparations, (−)-Δ9-tetrahydrocannabinol (THC) (Gaoni and Mechoulam, 1964; Mechoulam, 1970) from the characterization (Devane et al., 1988; Herkenham et al., 1991) and molecular cloning (Matsuda et al., 1990) of its cellular target, the cannabinoid CB1 receptor (CB1).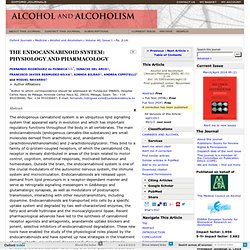 The extensive research on the structure and activity of the natural constituents of Cannabis (termed cannabinoids) and the development of synthetic compounds with high potency and stereoselectivity have led to the identification of the main physiological functions that are modulated by this new class of drugs (Howlett et al., 1990). Study Helps Unravel Mysteries of Brain's Endocannabinoid System, March 16, 2009 News Release.
Study Helps Unravel Mysteries of Brain's Endocannabinoid System NIDA research could lead to better treatment for pain and marijuana addiction New research funded by the National Institute on Drug Abuse (NIDA), part of the National Institutes of Health, has identified a new mechanism for the processing of endocannabinoids, natural brain compounds similar to THC, the active ingredient in marijuana.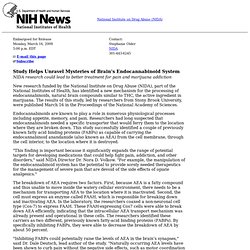 The results of this study, led by researchers from Stony Brook University, were published March 16 in the Proceedings of the National Academy of Sciences. Endocannabinoids are known to play a role in numerous physiological processes including appetite, memory, and pain. Beyond Marijuana: Endocannabinoids and Therapies.
---