VPN providers
Secure VPN.S Servers | VPN Secure | VPN Secure Networks
Have been using HMA for some time now. Generally, I buy a 6 month license and every 6 months I'm back. No switching. Don't need to.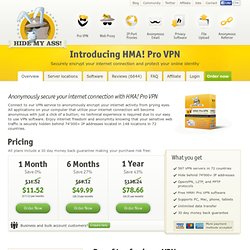 Providers of personal VPN services for online privacy, data security, and unblocking Facebook, Twitter, and Skype where censored.
Hide My Ass! Affiliate service
Privacy IO - We give you your privacy
Unblock VOIP, annonymous surfing, Unrestricted access in UAE, Dubai, Cheap Personal vpn services! - VPNGates.com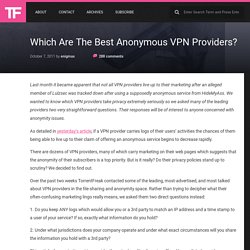 Last month it became apparent that not all VPN providers live up to their marketing after an alleged member of Lulzsec was tracked down after using a supposedly anonymous service from HideMyAss. We wanted to know which VPN providers take privacy extremely seriously so we asked many of the leading providers two very straightforward questions. Their responses will be of interest to anyone concerned with anonymity issues. As detailed in yesterday's article , if a VPN provider carries logs of their users' activities the chances of them being able to live up to their claim of offering an anonymous service begins to decrease rapidly. There are dozens of VPN providers, many of which carry marketing on their web pages which suggests that the anonymity of their subscribers is a top priority. But is it really?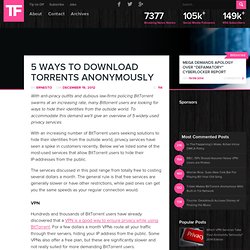 5 Ways To Download Torrents Anonymously
With anti-piracy outfits and dubious law-firms policing BitTorrent swarms at an increasing rate, many Bittorrent users are looking for ways to hide their identities from the outside world. To accommodate this demand we'll give an overview of 5 widely used privacy services. With an increasing number of BitTorrent users seeking solutions to hide their identities from the outside world, privacy services have seen a spike in customers recently. Below we've listed some of the most-used services that allow BitTorrent users to hide their IP-addresses from the public. The services discussed in this post range from totally free to costing several dollars a month. The general rule is that free services are generally slower or have other restrictions, while paid ones can get you the same speeds as your regular connection would.
HotSpotVPN dot Com - Home