Big Set o' Tuts
Previously on Nettuts+, Philo showed how you can use jQuery to add form validation to wordpress comments that works without any page reload.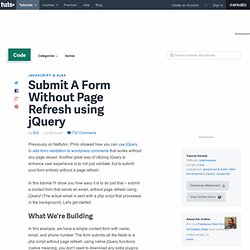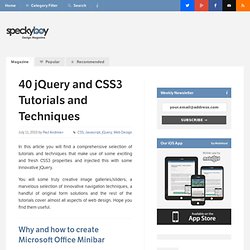 In this article you will find a comprehensive selection of tutorials and techniques that make use of some exciting and fresh CSS3 properties and injected this with some innovative jQuery.
40 jQuery and CSS3 Tutorials and Techniques :Speckyboy Design Magazine
Weekly Design News – Resources, Tutorials and Freebies (N.45) :Speckyboy Design Magazine
This is our weekly column in which we share our favorites posts, articles and resources with our readers all from the previous week. If you would like to be kept up to date with loads of fresh design news and resources, you can follow us on Twitter , on Facebook or even by subscribing to our RSS feed .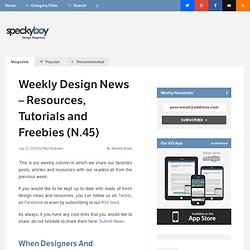 10 Awesome jQuery Tutorials About Twitter | Script & Style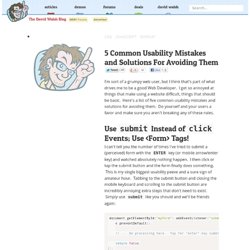 CSS JavaScript Markup 5 Common Usability Mistakes and Solutions For Avoiding Them I'm sort of a grumpy web user, but I think that's part of what drives me to be a good Web Developer. I get so annoyed at things that make using a website difficult, things that should be basic.
In this tutorial, we'll take a look and see what we can achieve with HTML5 and CSS3 when it comes to the staple of current web sites: the humble drop-down navigation menu.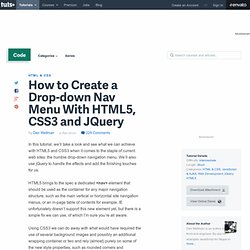 HTML5 | Answer My Query
This update covers really useful tutorials, tips and techniques that you should have read in June 2010. Featured publications include: Justin Tadlock, Nettuts+, David Walsh Blog, Smashing Magazine, Tutorialzine, A List Apart, Perishable Press, Carsonified, Marcofolio, Nicolas Gallagher, Codrops, Onextrapixel, Digging into WordPress, Six Revisions, Line25, 1stWebDesigner, Alex Marandon, and Voosh Themes.
Guacamole, HTML5 JavaScript VNC Viewer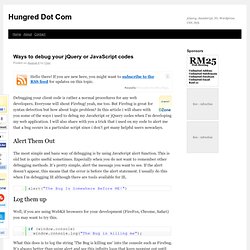 Debugging your client code is rather a normal procedures for any web developers.
Ways to debug your jQuery or JavaScript codes
5 Useful Coding Solutions For Designers And Developers - Smashing Magazine
This post is the the next installment of posts featuring " Useful Coding Solutions for Designers and Developers ", a series of posts focusing on unique and creative CSS/JavaScript-techniques being implemented by talented professionals in our industry. A key talent that any Web designer must acquire is the ability to observe, understand and build on other people's designs.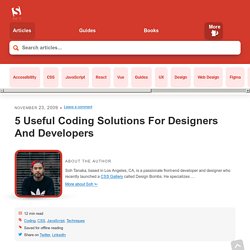 Over the last year, Smashing Magazine has evolved.