Nihongo
Get flash to fully experience Pearltrees
Minna no Nihongo I Está compuesto por 本冊 Honsatsu(libro de clase, todo en japonés), 翻訳文法解説 Honyaku Bunpou Kaisetsu(traducción y notas gramaticales, todo en español), 標準問題集 Hyoujun Mondaishuu (libro de ejercicios, todo en japonés), 漢字英語版 Kanji Eigoban (en kanji y en inglés ), y 漢字練習帳 Kanji Renshuuchou(libro de ejercicios, todo en kanji). También pueden descargar el audioen mp3 del 言葉 (kotoba=vocabulario), 会話 (kaiwa=conversación) y 聴解 (choukai=dictado). Descarga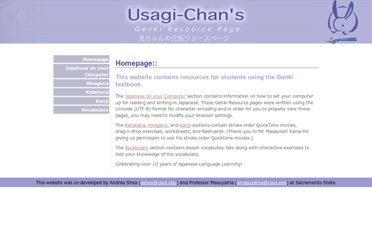 The Japanese on your Computer section contains information on how to set your computer up for reading and writing in Japanese.
When you're sitting there writing or typing something, you may take for granted the little things… little things like periods , commas , and quotation marks.
I live in Japan, but barely speak Japanese. I can't help you with verb conjugation or passing the JLPT.
While the words "like" and "dislike" don't rate up there with yes and no as the first words you'll learn in a new language, they're obviously important to have in your beginner's vocabulary. Just imagine yourself in a seafood restaurant somewhere deep in Hokkaido and not knowing the right word to say.
This week's Word Of The Week is – Monogatari (物語) meaning story or tale.
General Language Resources