WebDesign
Controversial Concept For NYTimes.com Gets Reborn On WordPress | Co. Design. Back in July, a designer named Andy Rutledge stirred up a debate online by writing a manifesto about the suckiness of news websites--and by mocking up an unsolicited redesign of the New York Times homepage on his own.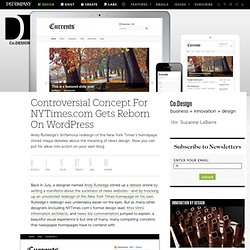 Rutledge's redesign was undeniably easier on the eyes. But as many other designers (including NYTimes.com's former design lead, Khoi Vinh), information architects, and news-biz commentators jumped to explain, a beautiful visual experience is but one of many, many competing concerns that newspaper homepages have to contend with. [The top of the design features a large image and slider] Now Rutledge's cri de coeur is being resurrected in an interesting way--as a WordPress theme from WooThemes called "Currents.
" Compare camera dimensions side by side. Camera size is a web app which allows you to compare two different digital cameras side by side and comprehend the relative physical size differences between them.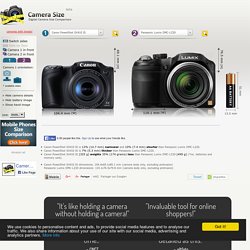 Furthermore, you can view the life-size physical dimensions of the camera on your LCD screen, as if you were looking at it at the camera store. The camera's list is being updated daily, including mirrorless, DSLR and point-and-shoot digital cameras. Discliamer: Certain content that appears in this application/site comes from Amazon Services LLC. This content is provided 'AS IS' and is subject to change or removal at any time.
30 Best Examples of New Web Interface Design at DzineBlog. Learn how to earn $125 or more per hour as a freelancer - Click Here Looking for hosting?.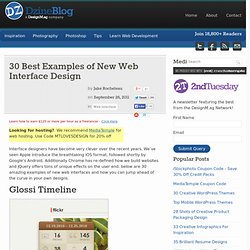 We recommend MediaTemple for web hosting. Use Code MTLOVESDESIGN for 20% off Interface designers have become very clever over the recent years. Templates - Professional Joomla Templates, Joomla Themes, Joomla 1.6 Templates, Joomla 1.5 Templates, Custom Website Templates - GavickPro.
---