Tips and tricks for life
How to To Make Your Food Taste Awesome | Easy Food. Instructions: How to Spring Clean With Nontoxic Home-made Products. Tackling spring-cleaning this month?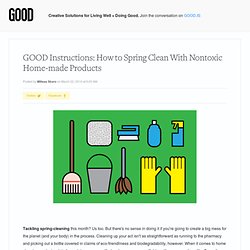 Us too. But there's no sense in doing it if you're going to create a big mess for the planet (and your body) in the process. 25 clever ideas to make life easier. Via: amy-newnostalgia.blogspot.com Why didn't I think of that?!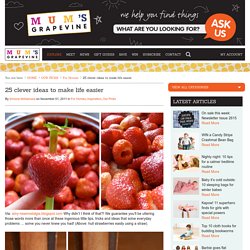 We guarantee you'll be uttering those words more than once at these ingenious little tips, tricks and ideas that solve everyday problems … some you never knew you had! (Above: hull strawberries easily using a straw). Via: apartmenttherapy.com Rubbing a walnut over scratches in your furniture will disguise dings and scrapes. 10 Unique Uses For Used Tea Bags. Everyone is familiar with the health benefits of tea: it fights cancer, reduces risk of stroke and other diseases, and revitalizes body cells.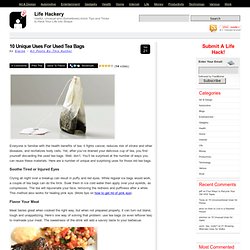 Yet, after you've drained your delicious cup of tea, you find yourself discarding the used tea bags. Well, don't. 75 Extraordinary Uses for Baking Soda. Baking soda is a chemical compound that appears as a fine powder.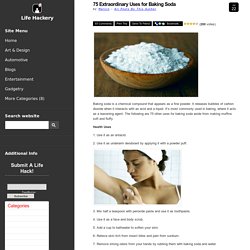 It releases bubbles of carbon dioxide when it interacts with an acid and a liquid. It's most commonly used in baking, where it acts as a leavening agent. Olive Oil Benefits &150; Olive Oil Uses &150; Olive Oils. It might seem weird to stick a bottle of olive oil near your makeup mirror, in your hall closet, or next to your workbench, but after you try these household and beauty hacks, you may be tempted to permanently relocate your supply from the pantry. 1.
Silence a squeaky door. Lubricate a sticky hinge or creaky knob with a few drops of oil to quiet an irritating noise without harsh chemicals or a toolbox. 2. Free a stuck zipper.
---